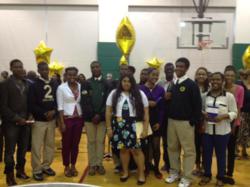 We are excited that these students will have this opportunity and wish them much success next year at Cathedral High School.
Boston, MA (PRWEB) June 07, 2013
During a Mass held at the Cathedral of the Holy Cross in Boston's South End on May 23, 2013, Archbishop Sean Patrick Cardinal O'Malley, O.F.M. Cap., recognized incoming Cathedral High School freshmen Sheldon Adelson, Vany Cardoso, Rachel Dhoray, Andy Dinh, Marquell Harris, Roody Jean-Baptiste, Jenaysia Joseph, Laurine Pierre-Louis, Deysi Rodriguez Kelly, Yveliana Oquendo as Catholic Schools Foundation (CSF) Scholars.
The students were selected because of their educational achievement, potential and demonstrated community leadership. These Scholars reside in Boston, Dorchester, Mattapan, and Roxbury. Adelson, Dhoray, Dhin, and Jean-Baptiste matriculated from the Pope John Paul II Catholic Academies. Joseph attended Mission Grammar, while Pierre-Louis attended Edward Brooke Charter School, Roslindale and Cardoso attended Epiphany School. Harris, Rodriguez Kelly, and Oquendo are from Orchard Gardens School.
As Cathedral High School prepares for the graduation of the Class of 2013 on Saturday, June 8, the new group of Scholars will have to continue Cathedral's streak of gradutates being accepted into college. For the ninth year in a row, Cathedral has had a 100% college acceptance rate. This fact is the main reason these CSF Scholars chose to attend Cathedral. They also felt that the new Tutors-4-All program, safe environment, smaller class sizes, and school community were the other reasons they were attracted to the school.
"Young people like these Cathedral Scholars are the future leaders of our society and we are thrilled to be able to invest in their futures through a Catholic education." said Mike Reardon, Executive Director of the Catholic Schools Foundation. CSF selected a total of 161 incoming high school freshmen from across the Greater Boston to receive this special recognition.
The CSF Scholars Program was established in 2010 to recognize students who have great promise and for whom a scholarship could mean the difference to be able to attend a Catholic high school or not. There are currently over 450 CSF Scholars throughout Catholic high schools in the Archdiocese of Boston.
"Regardless of where a student starts, a Catholic school education has proven to help students reach their full potential and develop the whole person. We are excited that these students will have this opportunity and wish them much success next year at Cathedral High School," Reardon added.
The Catholic Schools Foundation changes lives by providing families with demonstrated financial need an opportunity to give their sons and daughters a quality education, focused on Christian values and character formation at Catholic Schools located throughout the Archdiocese of Boston, regardless of race, religion, ethnicity or gender.