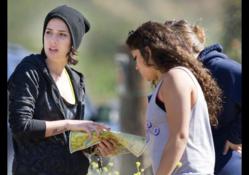 San Jose, CA (PRWEB) June 17, 2013
Even the most seasoned hiker can get lost in the wild, whether it's wandering away from camp, getting left behind, getting injured or trapped. The wild could be a very unforgiving place, that's why there needs to be a national hiker safety awareness week that's all about teaching hikers about the importance of bringing smartphones, a source of portable energy, and a PCB during hiking trips.
Just recently, an experienced hiker in California was lost during a trek in the Sierra. Dorothy Klishevich, a 67-year-old grandmother and experienced hiker got careless when she became distracted by her 7-month-old puppy and was separated with her two grandsons who came along for the trip.
"I cannot express the feeling of not knowing where my grandsons were," Klishevich said. She looked for a high spot to get a cell signal and called 911. "I told them I'm on a mountain and I'm lost and I don't know where my grandsons are and I need help," she said. California Highway Patrol helicopter crew pinpointed her exact location via GPS on her cell phone and was overhead within a half hour.
In the meantime, the Placer County sheriff's department found the two boys safe in the bed of Klishevich's pickup truck playing cards, waiting for their grandmother. Klishevich considers herself an experienced hiker with a good sense of direction, but admits this experience helped her learn something valuable; "Even when you know what you're doing, it's a good idea to not lose focus and get careless," she said.
Another hiker in a similar situation became disorientated and lost in the dark, she left campground at 1 p.m. and was still gone since 8 p.m., that's when her boyfriend called the police. Search and rescue finally tracked her down when the missing woman called and searchers homed in on her cell phone signal.
There is another recent case of two missing teenage hikers who were lost in the woods, the pair called the police to report they were lost and ran out of water, but before the police could pinpoint their location from the GPS in their cell phone the batteries died, leaving the two to fend for themselves to find other ways for help. Both were lost for 5 days, injured, severely dehydrated and scared, luckily experienced hikers found them and they were rescued.
(Get A Phone Solar Charger To Prevent This From Happening, Click Here For More Details.)
A Lesson Learned
This story should be a lesson for all hikers, especially the ones who think cell phones don't "promote self reliance", a cell phone and a source of portable energy is essential when hiking in the wilderness. If it wasn't for the teen's dead cell phone batteries, they would have been rescued within hours, but they were lost for 5 days and suffered the consequences and could have died.
Suntactics wants to help hikers prevent this situation from happening, Suntactics provides the most reliable solar chargers on the market and sincerely feels that a cell phone solar charger is an essential tool to carry along while hiking. Suntactics created a cell phone solar charger that is extremely durable and water resistant, one customer exclaimed just how durable Suntactics (particularly the sCharger-5) solar charger is by saying; "I accidentally dropped [the sCharger-5] when climbing some rocks, had some dents and scuffs but other than that it still works great!".
Click here for more information about solar chargers.
Also, those who hike outside the grid of civilization like on an island or deep in jungle forests, not only do they need a solar charger and a smartphone, but they also need a Spot Connect Global Satellite Network to boost a cell phone's potential reach so that rescue can be notified in case of an emergency.