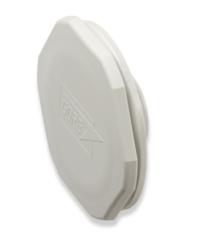 The GORE® PolyVent XL delivers reliable, long-lasting protection even in the harshest environments as proven by its compliance with multiple industry standards.
Elkton, MD (PRWEB) June 10, 2013
W. L. Gore & Associates has expanded its line of screw-in GORE® Protective Vents with a new vent specifically engineered for large outdoor enclosures with a volume in excess of 200 liters. The GORE® PolyVent XL improves the integrity, reliability and safety of these large housings in challenging environments such as found in the solar, telecommunications and exterior lighting industries.
Integrating the GORE® PolyVent XL into an outdoor enclosure results in improved reliability, increased safety and longer product life. This new vent is the latest addition to Gore's full line of plastic and metal screw-in vents available in various sizes and thread types. Changes in environmental temperatures cause the air inside of large-volume housings to expand and contract frequently, which can lead to failure of the housing seals and compromised internal electronics. Integrating the GORE® PolyVent XL into the housing provides such a high airflow that internal pressure remains equalized, enabling the manufacturer to simplify its design and protect electronics without having to add stronger seals or additional bolts. The use of this unique vent results in substantial cost savings for the manufacturer.
Sudden changes in environmental conditions can cause pressure to build up inside the housing, sometimes even exceeding 200 mbar (3 psi). This level of internal pressure can put significant stress on seals and housing materials, which can cause them to fail, resulting in reliability and safety issues. Constructed of a unique breathable membrane, the GORE® PolyVent XL equalizes the internal pressure by allowing air to flow freely into and out of the housing at a rate of 16 liters per minute at 12 mbar. At the same time, the GORE® PolyVent XL prevents liquid ingress at a pressure of 0.3 bar for 60 seconds (equivalent to water immersion at three meters).
The GORE® PolyVent XL delivers reliable, long-lasting protection even in the harshest environments as proven by its compliance with multiple industry standards. The vent's membrane protects the electronics from liquids and particulates by providing a durable barrier that even meets the challenging IP69K standard, which addresses protection from high-pressure, high temperature spray. Performing reliably in temperatures between -40°C and 125°C, Gore's vent protects against harsh weather conditions as indicated by its passing performance standards such as the UL 746C ultraviolet test. The vent also increases housing life because of its durable welded cap, enabling the vent to pass the hail impact test specified in the IEC 62108 standard for the solar industry. After installation in the field, the GORE® PolyVent XL does not require any maintenance for the life of the electronics and the housing.
With offices and testing facilities located throughout the world, Gore application engineers are available to work closely with manufacturer's design teams from initial product concept through rigorous testing and integration into the manufacturing process.
For more information about Gore's full line of venting products, visit gore.com/protective vents.
About W. L. Gore & Associates, Inc.
Gore is a technology-driven company focused on discovery and product innovation. Well known for waterproof, breathable GORE-TEX® fabric, the company's portfolio includes everything from high-performance fabrics and implantable medical devices to industrial manufacturing components and aerospace electronics. Headquartered in the United States, Gore employs approximately 10,000 associates in 30 countries worldwide. In Europe, Gore started its first business operations only a few years after the Enterprise's founding in 1958. Gore now has locations — sales offices as well as production facilities — in the key European countries with around 2,000 associates dedicated to serving the markets of all of Gore's product divisions. Gore is one of a select few companies to appear on all of the U.S. "100 Best Companies to Work For" lists since the rankings debuted in 1984. For several years now, Gore has also been voted one of the best workplaces in Europe and has been ranked on top workplace lists in France, Germany, Great Britain, Italy and Sweden. Learn more at gore.com.
GORE, GORE-TEX and design are trademarks of W. L. Gore & Associates.