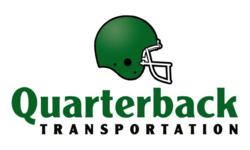 Toronto, Canada (PRWEB) June 11, 2013
Quarterback Transportation Inc., a full service logistics company that provides trucking, rail, container, cross dock, and warehousing services throughout North America, today announced that it has been named 67th on the 25th annual PROFIT 500 ranking of Canada's Fastest-Growing Companies by PROFIT Magazine.
With a five-year revenue growth of 1066%, Toronto headquartered Quarterback Transportation ranked in the top 3 for Transportation related businesses in Canada.
"Quarterback Transportation is honored to be on the PROFIT 500 ranking," says company Vice President Corrin Fields. "This achievement reflects the strength of our services and the strong dedication of our entire team".
"To celebrate the 25th anniversary of the Fastest Growing Companies In Canada, the PROFIT 500 has expanded to recognize the entrepreneurial achievements of more than 500 Canadian companies," says Ian Portsmouth, Editor-in-Chief of PROFIT magazine. "PROFIT is proud to now showcase Canada's forward-thinking small business entrepreneurs and honour their talents and innovations."
Ranking Canada's Fastest-Growing Companies by five-year revenue growth, the PROFIT 500 profiles the country's most successful growth companies. Published in the Summer issue of PROFIT and online at PROFIT500.com, the PROFIT 500 is Canada's largest annual celebration of entrepreneurial achievement.
About PROFIT Magazine and PROFITguide.com
PROFIT: Your Guide to Business Success is Canada's preeminent publication dedicated to the management issues and opportunities facing small and mid-sized businesses. For 31 years, Canadian entrepreneurs and senior managers across a vast array of economic sectors have remained loyal to PROFIT because it's a timely and reliable source of actionable information that helps them achieve business success and get the recognition they deserve for generating positive economic and social change. Visit PROFIT online at PROFITguide.com.
About Quarterback Transportation Inc. ( http://www.qbtransportation.com )
Quarterback Transportation is a logistics company managing all aspects of freight movements within the United States, Canada, and Mexico. QT specializes in domestic and cross-border Over the Road, Rail, Container, Intermodal, and Warehouse services. We strive to establish dedicated relationships with our clients and carriers. Quarterback Transportation is open 24 hours a day with a fully educated and trained staff that understands any transportation related need and ensures to meet your expectations in an expeditious manner. This mandate is continued throughout the organization.
For further information:
Corrin Fields
Vice President, Quarterback Transportation Inc
888 – 551 – 5250 Ext 227
cfields(at)qbtransportation(dot)com