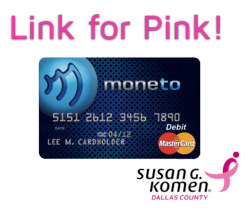 Knowing that every time you swipe your moneto card your purchases help fund the fight against cancer is something we know our customers will not only be excited about but will be passionate about.
Richardson, TX (PRWEB) June 12, 2013
DeviceFidelity announced today that it has teamed up with Susan G. Komen® Dallas County in the fight against breast cancer. For every purchase made with DeviceFidelity's moneto™ Prepaid MasterCard, a portion of the total will directly benefit Komen Dallas County.
Starting today, moneto account holders nationwide can link their prepaid MasterCard to Komen Dallas County by visiting moneto.com/komen. Linking their moneto reloadable card means that every transaction made with moneto benefits the organization. 1% of every transaction is automatically donated to Komen Dallas County to aid in the fight against breast cancer.
"DeviceFidelity is dedicated to bringing features and services to the moneto Prepaid MasterCard that make life easier, and with this recent partnership with Komen Dallas County, truly make a difference," said Youri Bebic, General Manager of Prepaid Services for DeviceFidelity. "Knowing that every time you swipe your moneto card your purchases help fund the fight against cancer is something we know our customers will not only be excited about but will be passionate about."
Proceeds raised from moneto purchases will help Komen Dallas County fund breast cancer education, screening, treatment and support services, such as transportation to and from medical appointments, for uninsured and underinsured Dallas County residents.
"Many residents in our community, who otherwise could not afford these services, rely on programs funded by Komen Dallas County to meet their breast health needs," Jennifer Legere, executive director of Komen Dallas County, said. " DeviceFidelity and the moneto Prepaid MasterCard is a committed partner in the fight against breast cancer, and we are grateful for their generous support."
The moneto program is redefining the prepaid market by combining an award winning mobile app with a prepaid MasterCard account and a unique set of value added services. Compatible with iPhone and Android, the feature rich mobile application allows users to easily sign-up, activate, access, manage, and use their prepaid card right from their mobile phone. To clearly make it stand apart, moneto also has an optional mobile payment feature that enables NFC on the iPhone and Android devices, for contactless payments using MasterCard® PayPass™. Customer favorites like instant Cash Back, Person-to-Person Transfers and Bill Pay can be accessed online or through the mobile app.
Signing up for moneto prepaid MasterCard is easy. Just download the app from any Android or iPhone, enter your information and you will be up and running in seconds. To link your moneto prepaid MasterCard so that your purchases benefit Komen Dallas County please visit http://www.moneto.com/komen
About DeviceFidelity:
DeviceFidelity, Inc. develops plug-and-play technologies that empower a variety of institutions to deploy their services and applications on millions of mobile phones worldwide. Its patented CredenSE and In2Pay® microSD and iCaisse for iPhone solutions transform popular mobile phones into an interactive contactless transaction device. Committed to bringing contactless innovation to the mobile phone, the company launched moneto, the world's first multi-platform mobile wallet in the US. DeviceFidelity is a private corporation with headquarters in Richardson (Texas) and offices in San Mateo (California), and Aix-En-Provence (France). For more information visit devicefidelity.com, follow us on Twitter @devicefidelity and at facebook.com/DeviceFidelity.
About moneto:
moneto is a convenient and feature-rich prepaid MasterCard that is redefining the way we bank. With online management tools to help you stay on top of it all and a complete mobile app that gives you simple one touch access to your account and all its amazing features. Use moneto where debit MasterCard is accepted worldwide. moneto is based on In2Pay® technology developed by moneto parent, DeviceFidelity, Inc. and is available in the US and UK. For more information on moneto in the US visit moneto.com and for the UK visit moneto.co.uk, follow us on Twitter @moneto_me or at facebook.com/monetome
About the Dallas County Affiliate of Susan G. Komen®
Susan G. Komen® Dallas County is the local source for funding breast cancer education, screening and treatment in Dallas County, serving thousands of Dallas County women in 30 cities. Through events like the Komen Dallas Race for the Cure®, Komen Dallas County invests 75 percent of the net funds raised to support vital local breast health services, and dedicates the remaining 25 percent to national research to find the cures. Since 1992, Komen Dallas County has invested more than $21 million into Dallas County via its annual community grants program. For more information, visit http://www.komen-dallas.org or call 214-750-7223. Follow @KomenDallas on Twitter and like Komen Dallas County's Facebook page for Affiliate updates.