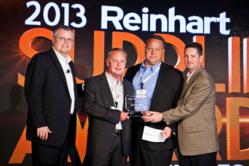 We are proud of the partnerships we are building across Reinhart and the support that our supplier partners continue to bring to our sales initiatives.
Rosemont, IL (PRWEB) June 07, 2013
This week, Reinhart Foodservice, L.L.C. (Reinhart) named U S Chemical Corporation as the 2013 Supplier of the Year at Reinhart's Traditions Sales & Merchandising Conference Supplier of the Year Awards Show. In addition to the Supplier of the Year award, several awards were handed out to Reinhart's supplier partners in an array of categories. Supplier recipients were recognized for their commitment to quality, food safety and innovation, as well as value they bring to Reinhart and its customers.
Reinhart Supplier of the Year Awards were presented to winners across 8 Category Awards and 6 Department Awards, as well as the 2013 Supplier of the Year Award. The winning suppliers were selected by the leaders of Reinhart's divisions from over 1,000 vendors based on performance key metrics and alignment with Reinhart strategy. The entire list of recipients is as follows:
Category Awards

Center of the Plate – John Morrell
Beverage – Leahy IFP
Dairy – Cheese Merchants of America
Non-Foods – U S Chemicals Corporation
Frozen Foods – Rosina Food Products
Grocery – Bay Valley Foods
Produce – The Thomas Colace Company
Seafood – Tampa Bay Fisheries
Department Awards

Logistics – REMA Foods
FSQA – Alpha Baking Company
Innovation – Norpac
E-Brands – Reser's
Business Friendliness – General Mills
Manufacturer Brand – Georgia Pacific
Supplier of the Year Award – U S Chemical Corporation
John Roussel, Chief Executive Officer of Reinhart, said "We are proud of the partnerships we are building across Reinhart and the support that our supplier partners continue to bring to our sales initiatives. We recognize that in order for Reinhart to bring value to our operators, we need to engage our vendors. The Supplier Awards recognize those vendors that throughout 2012 brought incremental value to our focus and embraced our strategies."