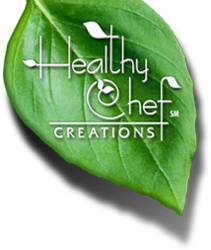 The Healthy Weight Loss diet meal plan is a great way to lose weight without feeling hungry. Customers can eat tasty organic food, lose weight, and feel great while they are doing it.
Winter Park, FL (PRWEB) June 10, 2013
Healthy Chef Creations® is pleased to announce the Healthy Weight Loss(SM) meal delivery program. Based on a Mediterranean-style diet that emphasizes balanced nutrition and portion control, customers can eat delicious, spa-inspired cuisine throughout the day and lose weight without feeling hungry. With the Healthy Weight Loss diet plan, customers receive a full week of entrées, side dishes, snacks, desserts, and Healthy Chef Creations' spa-energy drink. All of the healthy meals for weight loss arrive fully prepared and fresh, not frozen, and ready to eat.
With the Healthy Weight Loss diet plan, customers choose their desired daily calorie range, and the Healthy Chef Creations team creates a menu of healthy weight loss meals specifically for each customer. As with all Healthy Chef Creations home meal delivery programs, Healthy Weight Loss diet meals can be customized based on each customer's individual food tastes and preferences. The healthy meals for weight loss are made-to-order by Healthy Chef Creations' team of award-winning chefs. The seasonal menu changes weekly, and vegan meals, vegetarian meals, and gluten-free meals are available for delivery nationwide.
About Healthy Chef Creations
Founded in 2001, Healthy Chef Creations® is the premier national provider of fresh, organic, gourmet home meal delivery services, providing convenient, great-tasting, wholesome meals for both enjoyment and good health. Healthy Chef Creations provides a faster, easier way to enjoy a healthy diet as part of a healthy lifestyle, with spa-inspired, organic prepared meals that are individually made-to-order and delivered fresh nationwide. Healthy Chef Creations' healthy, organic meals have won numerous national awards for taste and quality, and are the top choice of families, couples, singles, busy professionals, new and expecting moms, dieters, seniors, and many professional athletes, celebrities, trainers and nutrition experts. Healthy Chef Creations offers a variety of prepared home meal delivery programs and pricing plans (Healthy Weight Loss Meal Program(SM), Healthy Living(SM), Healthy Senior(SM), and Healthy Mommy(SM) programs), and also an extensive A La Carte menu from which customers can pick individual meals and sides, and customize each one to their own tastes and preferences. Orders may be placed online at http://www.HealthyChefCreations.com or by calling 866-575-CHEF (2433).