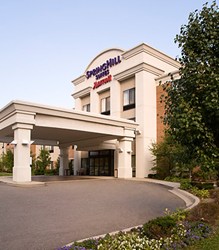 Detroit, Michigan (PRWEB) June 10, 2013
Paramount Lodging Advisors (PLA) is pleased to announce the sale of the SpringHill Suites in Southfield, Michigan. PLA's Bennett Webster facilitated the transaction, which consisted of a note sale and negotiated deed-in-lieu, resulting in a simultaneous title transfer to the new owner. The sale represents PLA's ninth successful Michigan hotel engagement in the past eight months.
"We are very pleased to continue to take part in the ongoing transformation of the Metro Detroit lodging market. Given our extensive work in Michigan, our team has had unparalleled success in uncovering and identifying value for sellers, buyers and lenders of performing and distressed hotel assets in the Detroit area," noted Webster.