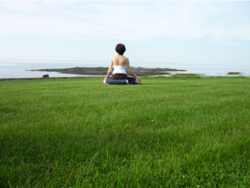 Emerson will also be available for healing work, both physical healing and helping people orient toward their life paths.
Munnsville, NY (PRWEB) June 07, 2013
What do Holistic practitioners, authors, and speakers do in the summer months while everyone's on vacation? They offer retreats! New Montreal Yoga, New York's Kwan Yin Healing, and Mississauga, Ontario's Sun Warrior team up for a four-day retreat in Metis-sur-mer, Quebec, on the Gaspé, including accommodations, activities, and meals, June 28 to July 2. See http://bit.ly/14lOUrD for more information and to register; deadline for reserving beach housing is June 10, 2013.
Yogi and Reiki master Barbara Pearce of New Montreal Yoga – http://newmontrealyoga.com -- will lead the retreat in meditation, yoga and Yoga Nidra practice daily. She also loves to cook, and will feed participants her home cooked meals (dietary restrictions will be respected). She's fiercely committed to guiding the "less flexible" to achieve comfort in their bodies and an overall sense of well being in their minds and spirits so they can move through life with more enjoyment.
Author, historian, native elder and theologian Brock Shaver, who wrote The Creation in Time under his native name "Sun Warrior," is interested in life stories, what they mean, and how they weave into a bigger meaning with nature and Spirit, modern and Native. He likes listening to others' stories and finds it's messy but fun to untangle them and find their meaning. He'll share his stories about sacred journeys at the retreat.
Reconnective Healing Practitioner Tim Emerson, of Kwan Yin Healing – http://kwanyinhealing.com -- will also present a talk on "The Reconnective Journey." "We're meant to be happy, joyful, fulfilled, and readily, easily so," explains Emerson, "But misunderstandings about ourselves and our world block that natural path." Oriented heavily toward realizing practical results, Emerson has written blog posts and posted video lessons on topics from "Nine Steps Toward Getting Unstuck" to "Twelve Common Misperceptions about the Law of Attraction (and What to Do about Them)." The problem, as he describes it, is that "we talk about raising vibration—but what does that mean? People need systematic steps to work through their energetic selves." More about this journey can be found at http://thereconnectivejourney.com. Emerson will also be available for healing work, both physical healing and helping people orient toward their life paths.
Metis is a beautiful beachside community of just 600 residents, but the area hosts a wealth of recreational enticements, including the Vignoble Carpinteri vineyard, the beautiful gardens at Les Jardins de Metis, kayak rentals at Auberge, the Cascade and Boules Rock golf courses, the nearby cities of Rimouski and Matane, as well as salt water tides, star fish, crabs, and seagulls.
The nearby national park, Parc national de la Gaspésie, features hiking trails ranging in length from 1 to 17 km give hikers ample opportunity to experience the park's high barren peaks, wildlife, and glacial. A 100-km trail crosses the park from Mont Logan to Mont Jacques-Cartier as well, escaping into majestic landscapes of peaks soaring over 1,000 km, and snowfall that persists through mid-summer. The route travels through moose and caribou habitat and is part of the International Appalachian Trail. Passenger transportation service is available as well.
But perhaps the best opportunity is just to relax and enjoy. "I get so little opportunity to just sit and talk with clients," notes Emerson. "It's great to have an environment for fun and fellowship, campfires and candid conversation, really get to know folks better." Emerson, a professional musician as well, will be bringing his guitar and share some songs.
Longer vacation stays are certainly possible—contact Barbara Pearce at barbara(dot)pearce(at)videotron(dot)ca for more information about extended retreat options.