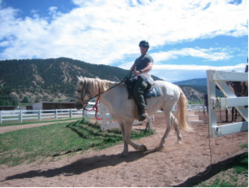 The C.A.M.O. program allows individuals the chance to overcome adversity and do things they may think was no longer possible. This program is truly amazing and so are the individuals that keep it up and running.
Aspen, Colorado (PRWEB) June 09, 2013
A community based collaboration between Challenge Aspen Military Opportunities(CAMO) and Sopris Therapy Services; "Horses for Heroes" is delighted to offer two military based equine therapy camps in the beautiful Roaring Fork Valley.
Equine Assisted Therapy is proven to be a beneficial and highly effective treatment for numerous physical, neurological, cognitive and emotional conditions.
Location: Aspen, Colorado
Dates: June 24-28, 2013 and July 15-19, 2013
Includes: Lodging, Equipment, Program Activities, most meals
To apply or for more information, contact Dylan Braun, C.A.M.O. Program Manager: 970.923.0578 or dylan(at)challengeaspen(dot)com.
ABOUT CHALLENGE ASPEN
Challenge Aspen provides recreational, educational and cultural experiences for people with disabilities. Hosting year-round, adaptive recreational, educational and cultural opportunities they make activities accessible to people with any physical or cognitive disability. Challenge Aspen Military Opportunities (C.A.M.O.) was founded in 2005 and provides year-round experiences for injured and ill service members. Challenge Autism was founded in 2012 and provides individuals on the Autism spectrum with opportunities to improve in sports, communication, and daily life skills through highly structured activities.