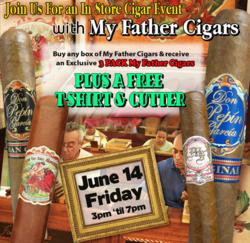 Mike's Cigars celebrates Father's Day with My Father Cigars and their Flor De Las Antillas, the Cigar of the Year.
MIAMI (PRWEB) June 11, 2013
In honor of Father's Day, Mike's Cigars Distributors is hosting an in-store event featuring My Father Cigars at their flagship store and company headquarters at 1030 Kane Concourse in Bay Harbor Islands, Florida from 3-7 pm on Friday, June 14, 2013. My Father Cigars is the maker of the award winning Flor De Las Antillas, the sought after 2012 Cigar of the Year. The Miami cigarmaker also boasts the Don Pepin Garcia, Le Bijou 1922, La Reloba, and the new El Centurion.
Attendees will receive a premium t-shirt from My Father Cigars and a free cutter. Any box purchase of any My Father Cigars line with receive a free exclusive three pack of specialty cigars reserved only for My Father Cigars store events and not available for sale.
According to Cigar Aficionado website, the highly rated Flor De Las Antillas is a box-pressed cigar with notes of nutmeg and white pepper with all Nicaraguan components for full strength without being overpowering. Don Pepin Garcia Blue and Black labels are made with golden corojo and fine criollo tobaccos. All of the My Father cigar lines are favorites of cigar enthusiasts and are respected by cigar industry reviewers.
Mike's Cigars invites fathers, sons, and cigar fans to join My Father Cigars at this special Father's Day cigar event.
About Mike's Cigars: Established in 1950, Mike's cigar store is one of the biggest independent cigar mega-stores in the United States with retail and wholesale cigars online since 1998 and mail-order catalog services since 1970, and also a flagship cigar shop in Miami's Bay Harbor. All venues offer premium cigars from most cigar manufacturers worldwide. The company ships cigars, cigar samplers and cigar accessories to consumers all over the world, and carries over 1,000 different brands of premium cigars. Small cigars, large ring gauge cigars and everything in between are available on sale, on site and online at http://www.mikescigars.com.
For more information, call 305-866-2277.