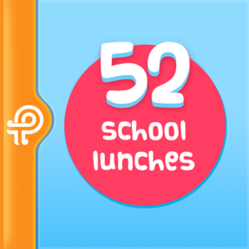 Sending your kids to school with a homemade lunch is economical, healthy, and lets you send a little love from home. - Laura Torres, magazine editor
Sanger, CA (PRWEB) June 26, 2013
Wondering what to send in your child's school lunch box? 52 School Lunches, created by Familius Publishing, is the perfect app for the busy parent who wants delicious, nutritious, quick, and fun recipes to keep kids happy and healthy.
Full color photography accompanies creative and easy to follow recipes perfect for school lunches. Ingredient list, tips, tricks, fun ideas, and jokes are also included to give the app more appeal and use.
Available now to get parents prepared for the upcoming school year for just $1.99 on iTunes, Google Play, Amazon for Kindle Fire, and Barnes & Noble for Nook, and $2.99 for Windows Phone, this app is sure to save time and money throughout the school year, while making school lunches more fun and interesting for kids.
Familius is a different kind of publisher with one simple mission: help families be happy. Whether you are married, divorced, raising children, empty nesters, looking for family fun ideas, struggling with school, frustrated with your teenager (or parent), managing your personal finances or just trying to be healthier, Familius publishes for you.
Laura Torres, a craft magazine editor for more than twenty years, writes, "Sending your kids to school with a homemade lunch is economical, healthy, and lets you send a little love from home."
About the Publisher: Familius is a transmedia publisher who publishes for marriage, parenting, family fun, education, health and wellness, and children. The Familius mission is to help families be happy. We connect families with the books, e-books, videos, articles, and apps they need to build successful marriages and families. Let's Talk Family.