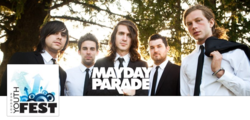 "Loudoun Youth Fest," Laura enthuses, "is a great way for teens to support their community and create great memories with their friends."
Ashburn, VA (PRWEB) June 11, 2013
Get your LOUD ON at the hottest teen event this summer in Northern Virginia. MayDay Parade headlines the Loudoun Youth Fest on Saturday, June 15th, 3:00 - 8:30 p.m. at Brambleton Town Center. Tickets are on sale online.
Loudoun Youth, Inc., together with Miller & Smith, BlueTreeDigital, Harris Teeter, Brambleton, Youth Advisory Council, and Department of Parks, Recreation and Community Service are proud to sponsor the event, now in its eighth year.
Loudoun Youth Fest is thrilled to score Florida emo rock band Mayday Parade as the headliner for the Loudoun Youth Fest this year. Other performers include Loudoun's top youth bands coming out of the recently concluded Battle of the Bands: winner, Veranda, along with runners up, Brandon Diaz (from TV's The Voice), That's What She Said, and Thrones for the Sun.
A past and future attendee of Loudoun Youth Fest, BlueTreeDigital intern Laura Acosta is looking forward to seeing May Day Parade this year. "Loudoun Youth Fest," Laura enthuses, "is a great way for teens to support their community and create great memories with their friends."
Inflatable obstacle courses, mazes, booths, interactive exhibits, games, food, prizes, and the Youth Fest Raffle round out what promises to be a fun time for participating teens and their families and friends. Tickets—and more details—are available online at the Loudoun Youth Fest website.
# # #
Loudoun Youth, Inc. is a nonprofit organization based in Leesburg, VA that works closely with community partners to develop and deliver youth serving programs that empower, connect, and provide leadership opportunities. To learn more about Loudoun Youth, Inc. and benefits of becoming a sponsor or volunteer please call 703.431.2303.