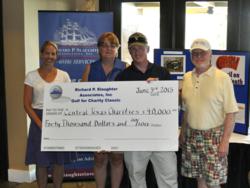 This golf tournament is a great way for us to say thank you to our clients and to make a significant impact on these local charities.
Austin, Texas (PRWEB) June 10, 2013
Richard P. Slaughter Associates, an Austin-based wealth management and financial planning firm, awarded $40,000 to local charities on June 3, 2013 at the firm's 5th Annual Golf for Charity Classic played at Twin Creeks Country Club. The contribution brought Slaughter's five-year total to $130,000 and provided more than $13,300 this year to each of three charities: Texas Parent to Parent, The Christi Center, and CARY Council on At-Risk Youth.
The nonprofits were chosen by the employees of Slaughter Associates and reflect employee and client volunteer service and engagement. The company felt it important to select small nonprofits based on where they and their clients volunteer their service as well as where their donations would have the greatest impact.
"Most of us at Slaughter Associates are either from Austin or have lived here for quite a long time, so it's very important to us to give back to organizations that are working to improve this community," said Brooks Slaughter, President and CEO of Richard P. Slaughter Associates. "This golf tournament is a great way for us to say thank you to our clients and to make a significant impact on these local charities."
Contributions from the Golf for Charity Classic have helped each of these charities in many ways. The Christi Center uses their funds to pay for counseling materials, training and establishing curriculums within local schools. They've also recently been able to upgrade their facilities and establish satellite services in Georgetown at the Community Resource Center.
"We are very grateful that Slaughter Associates has been able to do this every year," said Susan Cox, Christi Center co-founder. "Their support has been instrumental to us in keeping our services free of fees. We are a grief support organization that has helped more than 70,000 people over our 25 years, and this event is one of the best things to every happen to our organization."
The heart of Texas Parent to Parent is the peer support model — parents volunteering to provide support and information to other parents. The peer matching process is critical to families learning the adjustments of raising children who have disabilities, chronic illness and/or special health care needs.
"Slaughter Associates have been incredibly kind to Texas Parent to Parent over the years, through both their involvement on our board and with this charity golf tournament," said Laura Warren, Executive Director. It's one of our favorite and most important fund raisers, and we just can't thank them enough."
Adrian Moore, CARY Executive Director says Slaughter's contributions will help their organization fund more than 13 students for a full school year. Each year CARY operates an Aggression Replacement Training Program for 600 middle school students in 9 schools across Austin.
"And the program is working," continued Moore. "All of these schools have been low performing in the past, but we're helping these kids improve their grades and their attendance rates. School administrators tell us that just having a CARY advisor on campus makes the entire atmosphere more conducive to learning and creates a safer environment. There's less tension and less hostility among the entire student population."
The tournament hosted 106 golfers with numerous corporate sponsors contributing to the support of the charities including title sponsor Further Lane Income Solutions and gold sponsors CWS Capital Partners LLC, Vista Lending and Cumberland Trust.
About Richard P. Slaughter Associates
Richard P. Slaughter Associates is a leading Austin-based wealth management and financial planning firm. Slaughter Associates delivers a comprehensive financial approach to its clients by providing financial planning, asset management, ongoing education and a lifespan relationship for a personal and individualized service. This approach is unique in a financial industry that is often segmented and outsourced. By committing to each of these important components, Slaughter Associates charts a path to reach the individual financial goals of its clients.
Founded in 1991 in Austin, Texas by Richard P. Slaughter, Slaughter Associates is one of the original fee-based firms in the nation. In 2010, the firm launched a new division to embrace the business community with Slaughter Associates 401(k). Texas Monthly has recognized Slaughter Associates for its customer service as a FIVE STAR Wealth Manager for three consecutive years with individual honors for each member of the executive team. Slaughter Associates is a NABCAP Premier Advisor, recognized for its commitment to maintaining top business standards, first-class financial management capabilities and dedication to preserving transparency in the financial services industry. The firm is also a distinguished Best Places to Work, honored by the Austin Business Journal for eight consecutive years.