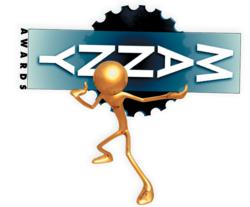 "…it is our continuous commitment to cutting-edge manufacturing technology, upstanding employee relations and a family commitment that makes Flottman Company a great place to work and a draw for potential employees." - Tom Flottman, CEO, Flottman Company
CINCINNATI, OHIO (PRWEB) June 07, 2013
Flottman Company, Inc. (http://www.FlottmanCo.com) a provider of marketing solutions, miniature folded pharmaceutical literature and commercial printing, has been recognized as 2013 MANNY Awards winner in the category of Best Place To Work. The MANNY Awards are an annual event sponsored by Cincy Magazine, Gardner Business Media and Cincinnati USA Regional Chamber. These awards are dedicated to recognizing the manufacturing industry's greatest accomplishments by honoring local companies for their innovation and best practices.
An independent panel of judges, representing various business sectors, selected three winners in each award category. This year's 15 Greater Cincinnati companies demonstrated success in five key areas of: creating great workplaces, designing new products, making breakthroughs, charting growth and creating new jobs.
Flottman Company was nominated by TechSolve a nationally recognized provider and Ohio's leader in process improvement expertise. The judges reviewing the nomination commented on the benefits of Flottman Company's continuous training, company outings, corporate awards, employee education reimbursement program, annual bonuses and their award winning internal newsletter. Every judge commented on the fact that over half of the Flottman Company employees have been with them more than 10 years and that three of these employees will celebrate 30 years with the firm in 2013.
"As a member of the Cincinnati region's manufacturing community, we are very honored to receive this award," said Tom Flottman, CEO of Flottman Company, "…it is our continuous commitment to cutting-edge manufacturing technology, upstanding employee relations and a family commitment that makes Flottman Company a great place to work and a draw for potential employees."
Flottman Company's award for Best Place To Work will be celebrated along with two other recipients: Metalworking Group and Richards Industries. All winners will be honored at a dinner on June 4, 2013, at the Sharonville Convention Center. This year's keynote speaker is Greg Morris, formally CEO and one of three Principals of Morris Technologies. The company was purchase by GE Aviation in 2012 and Morris serves as the Strategy and Business Development lead for Additive Technologies within GE Aviation. Returning as emcee is WCPO- TV News 9 reporter, Tom McKee. The winners will also be highlighted in the June/July 2013 issue of Cincy Magazine in a special section dedicated to Cincinnati's manufacturing leaders. http://issuu.com/cincyflip/docs/MANNYawards?mode=window
###
About the Flottman Company: http://www.FlottmanCo.com
The Flottman Company headquartered in Northern Kentucky; is a full-service digital and graphics communications firm founded in 1921. The company provides a wide array of strategic marketing, design and printing services to enable clients to "Communicate Brilliantly." Flottman Company specializes in pharmaceutical printing and manufacturing of miniature folded inserts. The Green Business Council awarded Flottman Company a Green Business Award. Flottman received the 2012 and 2013 TriState Business Success Award. The Printing Industries of Ohio and Northern Kentucky named the Flottman Company Printer of the Year. The University of Cincinnati honored Flottman with the Tri-State Family Business of the Decade Award. The Flottman Company is privately held, family owned and currently run by the third generation of Flottmans: Tom Flottman, Sue Flottman Steller and Peter Flottman.
*Like us on Facebook, follow us on Twitter and learn more about Flottman Company at our new website: http://www.FlottmanCo.com.