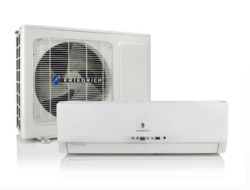 Breeze is a DSS product that can be installed at a fraction of the cost of a standard split system A/C or even by the handy homeowner (saving hundreds of dollars).
New York City (PRWEB) June 10, 2013
As summer heats up, Friedrich is conducting product demonstrations and social media contests to invite East Coast consumers to see its newest line of stylish room air conditioners and discover how easy they are to install and operate.
Friedrich's commercial-grade air conditioners can already be found everywhere from Texas oil rigs to upscale New York City apartments.
Demand for DSS and mini-split air conditioners, a variety of central air, has been steadily growing in the United States market but traditionally the installed cost (A/C unit + installation) has been high and warranties have been limited to parts such as compressors. Friedrich is helping consumers bring this technology into homes more cost-effectively this summer.
Breeze™ is a DSS product that can be installed at a fraction of the cost of a standard split system A/C or even by the handy homeowner (saving hundreds of dollars) and offers the industry's only full parts and labor warranty for the first year for added peace of mind. Breeze systems can be purchased and installed complete for under $2,000.
Friedrich's newest product line includes Kühl™, an elegantly designed commercial-grade room air conditioner with attractive décor features, Wi-Fi capability to manage energy efficiency and savings and a host of other industry exclusive features. Kühl features seven-day energy management programs based on a typical five-day workweek. Custom seven-day programs can also be created to maximize comfort and energy savings around individual preferences. In addition to full programmability, Kuhl can be fully controlled through your smart phone or computer with use of the optional KWIFI kit.
"The best part," says Michael Brief, New York Director of Sales, "is that Friedrich has maintained its footprint (cabinet size) since 1973. This means you can update your old unit as easy as sliding out the old chassis to install the new one."
Rounding out its consumer line is the Chill™, an energy-efficient and light-weight model with many of Friedrich's excellent features, including timer plus the MoneySaver® setting to help manage energy use and reduce costs. With capacities from 5,450 to 23,500 Btu/hour and the Auto Air Sweep feature, Chill can evenly cool a single room or a large open space. All models include a remote control.
Visit http://www.friedrich.com/ to learn more about its product lines and visit the company on Facebook and Twitter for more on its summer retail product demonstrations and social media contests.
About Friedrich
Founded in 1883, the San Antonio-based company has manufactured room air conditioning units since 1952. It remains the sole room air conditioning manufacturer in North America. Friedrich's newest line of products includes the Breeze ductless split system, the Wi-Fi-enabled Kühl commercial-grade room air conditioning system, and the sleek consumer friendly Chill. Friedrich air conditioners are hardworking and long lasting. Constructed of the highest quality components, Friedrich products are built to exacting standards and are among the quietest and most energy-efficient available. If you demand the best, it has to be a Friedrich.