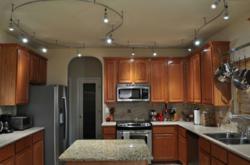 The California™ LED MR16 increases brightness more than 20% - without increasing the costs of LED Waves' track and cable lighting kits.
Brooklyn, New York (PRWEB) June 10, 2013
NYC-based LED lighting supplier and manufacturer LED Waves has announced an upgrade to their customized low volt spot lighting systems. All standard Flex II™ LED Track Lighting and Star™ LED Cable Lighting kits now ship out with the California™ MR16 LED light bulb.
The CA™ is a 7 Watt LED MR16 that replaces up to 50 Watt halogen bulbs. Built with an array of three highly efficient Cree XT-E LEDs, it's the newest GU5.3-based lamp from the company's exclusive line of LED bulbs made in the USA. And at over 400 lumens each, it is also their brightest. The CA™ is available in warm white (3000K) and neutral white (4000K) and beam spreads of 25 or 40 degrees. This bulb is an LED Lighting Facts® Product, performance tested by the United States Department of Energy's CALiPER program.
LED Waves' LED track lighting and cable lighting kits are energy-saving modernizations on the halogen systems originally sold through sister company Light Waves Concept. After five family generations specializing in low volt spot lighting, CEO Joel Slavis transitioned to eco-friendly LED technology to combat the higher Wattage and shorter lifespan associated with halogen lamps. And since LEDs are directional, they are particularly well suited to save energy on spot lighting applications such as these.
LED Waves' track and cable lighting systems start at $414.95 for 3-light kits. By replacing the previously standard issued bulb with the CA™ MR16 LED, the company is increasing overall system brightness by a measure of more than 20%. LED Waves is not increasing their kit prices with the bulb upgrade.
The Flex II™ LED Track Lighting and Star™ LED Cable Lighting systems are available on LEDWaves.com as three to seven-light kits. All kits ship complete with MR16 bulbs, 12 volt light fixtures, a power supply, and all hardware required for mounting. (Systems may be dimmed using a standard dimmer switch and a dimmable LED power supply. Dimming kits ship with the Athens™ MR16 LED light bulb.) For help customizing a 12v LED track or cable lighting system, call 1(800)986-0169.