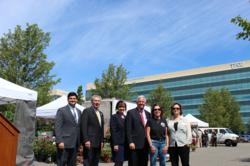 Hauppauge, NY (PRWEB) June 10, 2013
Teachers Federal Credit Union (TFCU), in partnership with the Long Island Growers Market, hosted a press event June 6 to introduce its farmers market to the Hauppauge community.
The Farmers Market will be held every Thursday through August 29, from 7:30 am to 2:00 pm in the TFCU parking lot located at 102 Motor Parkway in Hauppauge. All are welcome to patronize the 15 vendors offering fresh, locally grown produce, baked goods, jams, jellies and other assorted products.
Joining Robert G. Allen, President & CEO of TFCU, at the press event to support Long Island's farmers was Legislator John M. Kennedy, Jr., (R-Nesconset); Ethel Terry, founder and coordinator of the Long Island Growers Market; Dr. Sarah Eichberg, Director of Community Research for Vital Signs and the Institute for Social Research and Community Engagement at Adelphi University; and Terri Alessi-Miceli, President of the Hauppauge Industrial Association (HIA).
"Farmers and the agricultural industry are an important part of Long Island's history; past and present," said Robert G. Allen, TFCU. "They are a mainstay to the economy, providing essential services to the region, like you, and our participating vendors, TFCU is locally grown, and we believe in the importance of investing in Long Island."
"What a great opportunity to have access to Suffolk County's best: fresh fruits and vegetables," said Legislator John M. Kennedy, Jr. "Thank you to Teachers Federal Credit Union for having the forethought to provide this opportunity, and being mindful of those who need these goods. Suffolk County invests in the agricultural community to support our farmers so they yield bountiful crops and bring them to communities through markets such as this."
"Without farmers markets, we would not be farming," added Ethel Terry, Long Island Growers Market. "We only sell what we make, bake, grow and catch. It's important to us that our customers know where their food comes from. We opened our first farmers market 21 years ago in Islip, and our effort is still going strong. Thank you for this opportunity and we look forward to serving the Hauppauge area!"
TFCU was also inspired to host the farmers market at its headquarters due to its proximity to Brentwood, an area identified by the federal government as one of Long Island's "food deserts." A food desert is an area where residents do not have access to fresh produce and other healthy fare. This is a particular concern during the summer months for children who rely on schools to serve healthy breakfasts and lunches.
"We've been working with residents to explore the daily challenges of limited food access across the region," said Dr. Sarah Eichberg of Adelphi, who recently completed a two-year 152-page report focusing on Long Islanders affected by food insecurity. "Farmers markets are integral to combating the prevalence of food deserts, which are one of Long Island's most immediate challenges. High prices and the lack of access to fresh produce make it difficult for many to purchase healthy foods despite their desire to do so."
"The HIA strongly believes in the power of Long Island's farming industry, and feels that with this partnership, the opportunity for further growth is nearly endless," commented Terri Alessi-Miceli, HIA. "The HIA is proud to support the efforts of farmers markets, and is working with TFCU to end the prevalence of food deserts in communities across Long Island."
About TFCU:
Teachers Federal Credit Union (TFCU), one of the country's largest credit unions, is a full-service, not-for-profit financial institution. TFCU was founded on Long Island in 1952 and now has over $4.7 billion in total assets, serves more than 227,000 members and has 24 full-service branches throughout Suffolk County including: Amityville, Bay Shore, Brookhaven National Laboratory, Central Islip, Commack, East Northport, Entenmann's, Farmingville, Hauppauge, Holbrook, Huntington, Nesconset, North Babylon, Oakdale, Port Jefferson Station, Riverhead, Rocky Point, Selden, Shirley, Smithtown, South Setauket, Stony Brook University (2), and Wading River. Members also have access to services at more than 5,000 shared service centers located across the country. TFCU offers financial services to all people and businesses located in Nassau and Suffolk counties (excluding the townships of Southampton, East Hampton and Shelter Island). More information is available about TFCU by visiting http://www.teachersfcu.org or by calling (631) 698-7000