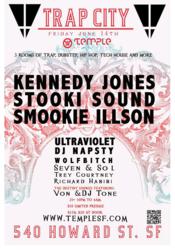 Trap City is San Francisco's premier Trap music event
San Francisco, CA (PRWEB) June 08, 2013
Trap City will be at Temple Nightclub in San Francisco on Friday, June 14, 2013 with exclusive performances by Trap music's freshest talent, featuring headliners Kennedy Jones, Stooki Sound and Smookie Illson.
"Trap City is San Francisco's premier Trap music event," said Alex Alden of Temple Nightclub. "All three headliners are making their first appearance in San Francisco."
Running on momentum from his prior collaborative Dupstep effort, headliner Kennedy Jones is no stranger to bass music stages in the United States. This Southern California solo artist, known for his trap remix of Elvis Crespo's 'Suavemente,' has taken the trapstyle bass music scene by storm with support from such artists as Borgore, 12th Planet, Mt Eden, Luminox, Shift Key, Ookay and more. Kennedy Jones is most certainly an artist to watch in 2013, with his new single 'Came to Party' out now on Mad Decent's Jefrees label.
Smookie Illson is known for their distinct take on bass music, which they injected into their debut 'Drop It Low' EP and in viral original singles 'Back It Up' and 'What U Gun Do'. This London-based collaborative music project has been well-received in the emerging trap music game, reworking hits like Deekline & Ed Solo's 'Number 1 Champion,' Porn & Chicken's 'Take Your Shirt Off,' and DJ Assault's classic 'Ass 'N Titties'.
Stooki Sound, the combination of creative geniuses DJ Lukey and Jelacee, hails all the way from London for this San Francisco stop on their first tour in the United States. With this duo's debut EP currently in the works, they have everyone on the edge of their seats as they bring the best in Trap, Hip-Hop and UK Bass.
Trap City will be in the Shrine of Temple Nightclub with the very best of Trap, and downstairs will be Deep House and Top 40. Doors open for the event at 10 pm. Temple is offering discounted admission before 10:30 pm.
Get tickets for Trap City at Temple here: http://www.ticketfly.com/event/274395
For a glimpse into the world of Trap City, check out Jon Zombie's video footage from last year: http://youtu.be/zzFbDtZJtHA.
For more information about the event, visit http://www.trapcitysf.com or call (415) 906-3791.
About the Zen Compound
The Zen Compound is an entertainment complex housing Temple Nightclub, Ki Sushi, TMG Recording Studios, Temple TV and ZCFM Radio, all with a sustainable focus.
Temple Nightclub is one of the most popular San Francisco dance clubs. The San Francisco event space is a true architectural gem. Filled with original unique antiquities from Southeast Asia, Temple offers 20,000 square feet of space, which can accommodate 1,100 guests on two levels. The nightclub includes four beautiful rooms, each with its own unique atmosphere.
For San Francisco event space rentals or corporate event inquiries, contact Dave Peterson at (415) 529-4307 x 309. For reservations and bottle service inquires contact Natalie Borges at (415) 978-9943 x 304.