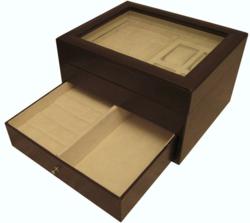 If you are sick and tired of digging through drawers or boxes to find your watches, cufflinks and accessories, then this is the gift for you.
SYDNEY, Australia (PRWEB) June 07, 2013
Malebox.com.au, a site that specialises in gifts and fashions for men, recently added a cufflink and accessories combo box to their product line. The box, billed as a "toolbox for the bedroom," features multiple compartments to help men organise their cufflinks, watches, and other accessories.
"If you are sick and tired of digging through drawers or boxes to find your watches, cufflinks and accessories, then this is the gift for you," says malebox's Dimitri Kontopos. "It's a leather men's valet to store your watches, cufflinks and men's accessories."
The box holds 15 pairs of cufflinks and four watches on the top layer, with room on the bottom level for 15 pairs of cufflinks and assorted men's accessories. The actual dimensions of the product are 275mm long X 160mm high X 220mm wide.
As malebox points out, the combo box is the perfect gift for men, making it ideal for upcoming Father's Day. To make things easier, malebox packages the combo box in a stylish gift-friendly white box, allowing purchasers to wrap it and hand it over to Dad!.
Specializing in unique men's gifts, malebox seeks to provide products that complement a man's unique style, including fashionable cufflinks, cufflink cases, tie cases, and more. The combo box retails for just under $200 AU.
Malebox sells a variety of products that are ideal for gift-giving, including a line of boxes for storing cufflinks. In addition to the combo box, malebox also serves a slightly smaller version, as well as a premium four-tier combo box that can hold as many as 60 cufflinks and eight watches.
To fill those combo boxes, malebox carries a full line of specialty cufflinks. Professional, versatile cufflinks mingle with exciting novelty items like the World Cup Soccer cufflinks, decorated with flags of a sports fan's nation. Cufflinks can also be customised with a recipient's name or design, including corporate logos.
For Father's Day, malebox is also highlighting its leather tie holders, which are ideal for the father who is always on the go. Ties can be zipped inside the holder for easy travel, keeping them wrinkle-free during long flights. Each case keeps four ties wrinkle-free, fitting perfectly into a suitcase or briefcase. One of the site's most popular gifts is its "magic wallet," featuring multiple compartments to help him keep things organised.
For gadget-lovers, malebox has a full line of techno-gadgets, including digital photo frames, remote control helicopters, underwater headphones and more. Malebox knows gifts for Dads can be challenging, so Kontopos and the team at malebox work hard to create the most unique products on the planet. This ensures whatever product consumers buy Dad this Father's Day, he won't see another one like it at work Monday morning.
To search for the perfect Father's Day gifts, visit http://www.malebox.net.au/. The company's cufflink box line is available at http://www.malebox.net.au/Mens-Cufflink-box.