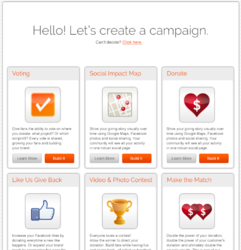 CafeGive's Self Serve platform equips marketers with the tools they need to build a branded, fully-functional campaign in a matter of hours.
Portland, OR (PRWEB) June 09, 2013
Businesses have a need for a way to build branded, easy-to-use campaigns on a quick turnaround time. Following the tornado in Oklahoma, businesses like PatelCo needed to build and launch a campaign the next day. CafeGive's Self Serve platform equips marketers with the tools they need to build a branded, fully-functional campaign in a matter of hours.
CafeGive Self Serve is the first publishing platform to integrate social media and cause marketing campaigns, making it even easier for businesses to harness the power of social media to take their cause marketing efforts to the next level. The Company's flexible social platform has helped customers like Intel, PatelCo, and US Bank to build custom campaigns around the causes they care about.
CafeGive's Self Serve platform offers pre-made templates that enable campaign managers to build custom, branded, fully-functional Facebook applications in under a day. Clients can control the campaign on their own terms, and raise awareness of their Corporate Social Responsibility initiatives.
Self Serve Cause Marketing Solution Liberates Marketers
CafeGive Social's intuitive Self Serve platform allows marketers to configure and fully brand their campaigns quickly and easily.
Marketers can use the platform to install CafeGive Social apps on Facebook or websites without help from their IT colleagues or specialty knowledge. CafeGive's apps can work alone or with company's existing social media presence.
Marketers looking for an alternative to Wildfire, which announced that its Basic, Standard, and Premium Promotions would no longer be available starting July 1st, have the opportunity to switch to CafeGive Self Serve for their one-time or on-going campaign needs.
CafeGive Social Offers Ways to Amplify Your Brand and Community Impact
CafeGive apps are a cost effective tool for companies looking to connect with their consumers in a fun and engaging way and build their brand equity and online presence, and to give back.
CafeGive clients using Self Serve can access the company's full array of apps to building their own branded campaign. Businesses using the easy to navigate platform can insert their own assets, copy, and media, and adjust the layout and "like" gate settings based on their needs and timeline.
CafeGive Social: A Community of Social Media Marketers
CafeGive's founders are world-class marketing and technology executives who have committed themselves to making a living and making a difference at the same time.
With over fifty years of combined experience, they are change the game by delivering a combined social media platform and a giving platform that allows organizations of all sizes to tell their giving story and be the change.
About CafeGive
CafeGive is the only company that combines social media marketing with social fundraising apps to increase the impact of social cause marketing campaigns. Our product, CafeGive Social, helps businesses, nonprofits and marketing agencies quickly execute and measure branded social campaigns. CafeGive has helped companies, agencies and nonprofits of all sizes connect with consumers in a meaningful way that builds brand and reputation, raises awareness and money for causes to effect social change. Headquartered in Portland, Oregon, CafeGive is a privately held company. For more information, please visit CafeGive, http://www.cafegive.com.