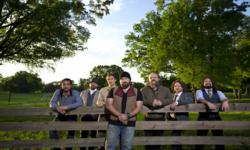 "Dahlonega was an incubator for me and many upcoming bands. It's an ideal place to listen to some really outstanding music in a fun atmosphere, where you can discover new talent and hear some of the great established artists." -Zac Brown
Dahlonega-GA (PRWEB) June 20, 2013
In the mood for some music? Then plan a North Georgia mountain getaway to Dahlonega this summer, where every week there's a feast for the ears. Dahlonega hosts more than eight annual festivals featuring almost as many musical genres. The Georgia Wine Country Festival, held every weekend in June at Three Sisters Vineyards (http://www.threesistersvineyards.com), offers free admission, and tastings and food for a fee. Performers offer a variety of styles, from Americana to jazz. Be sure to click on the "Music" link for a description of the acts. The second-annual North Georgia Chamber Music Festival, June 22-23, 2013, will feature world-class musicians in an intimate setting on the University of North Georgia campus in Dahlonega and at other venues (http://www.ung.edu/chambermusic). The artistic director is Cecylia Arzewski, violinist and former concertmaster of the Atlanta Symphony Orchestra.
North Georgia's mountain music pickers and singers flock to the Dahlonega Gold Museum State Historic Site and around the historic square for an Appalachian Jam every Saturday from 2-5 p.m. Musicians are welcome to play or learn acoustic bluegrass and old-time string music. A free "Music in the Park" series showcases the diversity of local talent and their music on the first Friday of each month. Held in Hancock Park, one block north of the Public Square, all concerts start at 6:30 p.m. Picnics, dancing and socializing are encouraged. The Fiddleheads and Bluebilly Grit are among the excellent lineup, which is posted here: dahlonegafirstfridayconcerts.org.
Dahlonega has been a destination for musicians and their fans since the early 1900s, and the area is even more of a magnet for the musical arts today. Dahlonega has been known as home to several prominent musicians and bands, including Shawn Mullins, Zac Brown, Amy Ray (The Indigo Girls), The Fiddleheads (America's Got Talent) and Bluebilly Grit (2012 Telluride Bluegrass Festival Winners). From numerous outdoor festivals and jam sessions on the Public Square to a variety of indoor venues, Dahlonega's music scene offers tunes for every taste.
According to Zac Brown of the platinum-selling Zac Brown Band, "Dahlonega was an incubator for me and many upcoming bands. It's an ideal place to listen to some really outstanding music in a fun atmosphere, where you can discover new talent and hear some of the great established artists."
Dahlonega is home to the Southeast's oldest and most intimate music venue, The Crimson Moon Café (http://www.thecrimsonmoon.com), where Zac got his start. Housed in a National Historic Register building on the Public Square, every seat has a great view of the stage. The Crimson Moon offers a rare opportunity to listen to performers of outstanding quality while enjoying delicious affordable dining. As part of the New York – New Orleans – Nashville entertainment circuit, the club presents live acoustic performances from the best of the nation's touring songwriters and solo artists to some of the nation's finest bands playing bluegrass, Celtic, contemporary/world folk, blues, pop, folk-rock, country, rockabilly and acoustic-alternative. All of the well-known performers who grew up in Dahlonega have played here, and some continue to appear from time to time.
Several Dahlonega dining establishments offer music on weekends and during the week. The Oar House (http://www.coolbreeze-inc.com/site/oarhouse/), a casual-elegant restaurant in a remodeled home with decks overlooking the Chestatee River, offers contemporary acoustic and vocals music on Saturdays and Sundays beginning around 6 p.m. Shenanigans Irish Pub (http://www.theshenaniganspub.com) hosts Monday Open Mic Night, Wednesday Karaoke, and live music on Fridays (8:30 p.m.) and Saturdays (8 p.m.) from popular bands who have developed quite a following. While Irish music is reserved for St. Patrick's Day, blues, upbeat modern rock and country are served up regularly. The Bourbon Street Grille (http://www.thebourbonstreetgrille.com) serves Cajun-oriented cuisine and offers Thursday night jam sessions open to all musicians. Gustavo's Pizzeria (http://www.facebook.com/gustavospizza ) offers music every other Wednesday and Saturday, and the house musician can play almost any request.
Dahlonega's musical arts extend to the main stage as well. The Historic Holly Theater (http://www.hollytheater.com) is home to one of Georgia's top theater companies and the award-winning Mountain Music and Medicine show radio production. The Holly Theater Company presents a year-round season of classic plays and Broadway style musicals. Outstanding concerts and performances sell out regularly to audiences who plan their trips around a weekend in the mountains. The Website http://www.Dahlonega.org helps visitors find the perfect North Georgia mountain vacation accommodations, dining and other attractions.