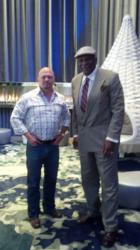 Phoenix, AZ (PRWEB) June 08, 2013
Professional athletes step out of the spot light as quickly as they come in to it. Unfortunately many are forgotten as fans move their attention to the newest stars. It is for this reason David Gergen, President of Pro Player Health Alliance(PPHA), is working closely with the Retired Players Association (RPA) and the Living Heart Foundation to care for retired NFL greats by providing health screenings to the former players.
The Living Heart Foundation, supported by Covidien, recently launched the HOPE (Heart, Obesity, Prevention & Education) program for former NFL Players. It is an obesity management awareness program aimed at healthy lifestyles and weight management for retired professional football players.
"The Retired Players Association is dedicated to providing powerful national advocacy and collegial support for retired professional football players, their families and the community at large. The RPA's specific area of focus is to raise awareness and funding in support of medical research in the areas of Alzheimer's and ALS, particularly as it relates to repeated head trauma Copyright © 2011 Retired Players Assocation."
With PPHA getting over 150 former professional athletes treated for sleep apnea and the expertise of the RPA and the Living Heart Foundation, this screening will feature a powerhouse trio of leading organizations that are most fit to care for former players. David Gergen and Carl Eller, Chairman of the Board for RPA, are working diligently to hold up to ten screenings a year beginning as soon as next spring.
With dates still to be determined, the nearest screening will be at Scripps Hospital in La Jolla, California and the second being at the University of Minnesota in the spring. Dr. Bradley Eli, who recently held a PPHA event in May, is on staff at Scripps Hospital and will be lending a hand at the screening.
About Pro Player Health Alliance
The Pro Players Health Alliance (PPHA) is an organization dedicated to helping former NFL players, through providing testing and treatment options for those who suffer from OSA. In addition, the PPHA is dedicated to integrating education and raising sleep apnea awareness, in a fun and memorable way. In addition to the campaign, the PPHA is dedicated to testing and getting people treated who suffer from sleep apnea. The PPHA was created by David Gergen, President of Gergen's Orthodontic Lab and Former NFL legends. To follow the latest on Pro Player Health Alliance, visit http://www.facebook.com/proplayerhealthalliance
About David Gergen
David Gergen, CDT and President of Pro Player Health Alliance, has been a nationally respected dental lab technician for over 25 years. He received the award for "The Finest Orthodontic Technician in the Country" given by Columbus Dental in 1986. He also has been appointed chair of the dental wing of the American Sleep and Breathing Academy, a national interdisciplinary academy dedicated to sleep training and education with over 60,000 members. He has worked for some of the pioneers in the orthodontic and sleep dentistry fields. One of his proudest achievements is receiving The National Leadership award for Arizona Small Businessman of the Year in 2004.