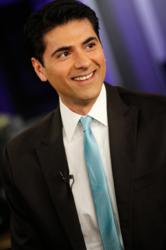 Outside of sports injuries, one of the most common issues I see is the natural wear and tear of joints in women – even young women.
Beverly Hills, CA (PRWEB) June 07, 2013
In order to promote awareness of the many types of orthopedic issues that affect all women - not just older women - world-renowned orthopedic surgeon Sonu Ahluwalia, MD will discuss healthy living choices to promote good joint health and prevent deterioration.
"Outside of sports injuries, one of the most common issues I see is the natural wear and tear of joints in women – even young women," said Dr. Ahluwalia. "This type of issue can really put a strain on knees and hips."
Dr. Ahluwalia explains that over time, joints naturally weaken and become strained. On The Today Show, he plans to address this issue, as well as share tips on positive lifestyle choices that women can make to help promote strong, healthy joints.
"Women have a wider pelvis and that's why their knees tend to go inward, and this can put strain on many of the joints," said Dr. Ahluwalia. "We're doing so much stuff that our joints wear out, and we need to consider this in our daily lives."
For women who have suffered from a shoulder, hip or other joint injury, or for those who experience continuous joint pain, Dr. Ahluwalia offers many different types of minimally invasive, outpatient procedures that can help restore normal mobility and flexibility. Many of these procedures take only a few hours, and can be truly life-changing.
Dr. Ahluwalia's segment on The Today Show on NBC will take place Tuesday morning, June 11, 2013.
For more health tips from Dr. Ahluwalia, as well as videos of his Good Day LA segments on MyFoxLA, visit his Facebook page.
Sonu Ahluwalia, MD, is an internationally-acclaimed board-certified orthopedic surgeon at La Peer Health Systems, as well as the Clinical Chief of Orthopaedic Surgery at Cedars Sinai Medical Center in Beverly Hills. His private practice specializes in sports medicine, shoulder, knee and hip surgery.
Dr. Ahluwalia completed his orthopedic training at the Harvard Combined Orthopaedic Surgery Residency Program in Boston, one of the most sought after training programs in orthopaedic surgery. He has completed three fellowships, two at Harvard Medical School and one at Lenox Hill Hospital in New York City, on shoulder surgery, sports medicine, and joint replacement and joint preservation surgery. For more information please call 310.659.2910 or visit http://www.Ahluwalia.org.
La Peer Health Systems is an outpatient surgery center in Beverly Hills, founded by doctors and focused on providing excellent patient care alongside the most cutting-edge medical treatments available. With 50 world-renowned physicians in 14 specialties, comprehensive medical treatment is offered that takes patients from consultation to diagnosis, treatment, surgery, and ultimately aftercare. The 14 medical departments include orthopedics & sports medicine, gastroenterology, head & neck surgery, colorectal & general surgery, podiatry, ophthalmology, pain management, plastics & reconstructive surgery, gynecology, spine surgery, interventional cardiology, bariatric surgery, thoracic surgery, and anesthesiology. Unlike large hospitals, La Peer's unique structure offers extremely personal care in a safe and controlled environment.
To learn more about La Peer Health Systems, visit http://www.lapeerhealth.com.