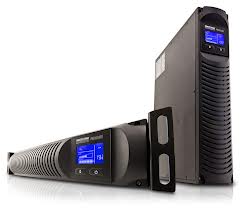 Milwaukee, WI (PRWEB) June 14, 2013
With severe weather sweeping the country, businesses have to be especially mindful about the safety of their IT equipment. Lightening and strong winds have the ability to interrupt or knock out an office's power. Most companies assume they are fully protected by having a backup power generator for their building. However this is not the case. Important IT equipment can be severely damaged in the short amount of time it takes for the generators to kick in. It is important to have a system in place to protect from this threat. Telcom & Data is proud to provide Uninterruptible Power Supply (UPS) Battery Backup systems. UPS systems protect office equipment from power outages, surges and spikes.
UPS Battery Backup systems save companies from worrying about the safety of their IT equipment. They have you covered in any electrical situation by providing a few minutes of power. These precious couple of minutes give time for generators to power up or to properly turn off the equipment. This prevents from any information being lost or damage done. The UPS system also protects in situations that don't require the use of a generator. Quick power surges and spikes have the ability to cause just as much damage. A UPS Battery Backup System acts as a surge protector to make sure that IT equipment is constantly receiving the proper amount of voltage. Any more or less than the required amount could be costly.
It's not worth waiting for a situation that requires a UPS system to happen before you consider purchasing or upgrading an out of date system. A single incident can outweigh the cost of bringing a UPS Battery Backup into the office. If you already have a system in your office, take the time to make sure that it is running properly.
For more information about how an Uninterruptible Power Supply Battery Backup can protect your company, visit Rack-Cabinets.com or call 800-335-0229.
About Rack-cabinets.com and Telcom & Data:
Since 1996 Telcom & Data has been providing thousands of telecommunication solutions to organizations around the world to measurably improve communications. The company is a leader in server racks and business phone systems. Telcom & Data maintains a network of over 1600 technicians with locations in Chicago, Milwaukee, and Miami. Rack-cabinets.com offers a wide variety of data center equipment and is powered by Telcom & Data.