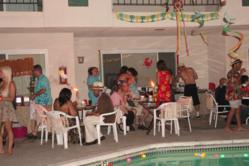 "Make it easy for party guests to have a good time while creating a fun atmosphere that helps the party flow," observes Keith Bansemer, Director of Internet Marketing at Shindgiz. "Prevent problems with a little planning beforehand."
South Whitley, IN (PRWEB) June 07, 2013
Summer Party Season has arrived and it's easy to get caught up in the excitement of planning a party and thus forgetting the important details. Shindigz, a national party supply internet retailer, wants to make sure parties are safe and fun for everyone having a summer party.
"Make it easy for party guests to have a good time while creating a fun atmosphere that helps the party flow," observes Keith Bansemer, Director of Internet Marketing at Shindgiz. "Prevent problems with a little planning beforehand."
Here are 10 tips you can do to make your party fun and safe for everyone:
1. Descriptive Invitations. What type of a party is it? Invitations should not only tell what the theme of the party is, but what the guests should bring and how they should dress.
2. Easy Directions. If your venue is somewhere guests have never been before, make sure you provide an address and directions so everyone can easily find the party. If you're at a house, make it especially easy for people to find by having a personalized yard sign out front.
3. Posted Pet Peeves. Pool parties mean wet bathing suits. Lots of people are picky about wet suits and towels in the house and have no problem posting a sign saying so. If there's something the party host is picky about, post it where people can see it. Hopefully friends and family will adhere to your requests.
4. Weather-friendly Food. It's summer, and if the sun is going to be blazing, make sure you have a plan to keep certain foods, like dairy products, cold throughout the party. Some foods might have to be kept indoors to stay cool, which is better than letting something spoil in the sun and people getting sick.
5. Keep it Clean. To avoid having to pick up everyone's trash after the party, have lots of places for guests to dispose of their trash. Tall, personalized trash cans not only ensure people will clean up after themselves, but can double as a decoration for the party.
6. Personalized Cups. A lot of socializing can make it easy for a party guest to lose his or her drink. Make it easy for guests to keep track of their drink by providing permanent markers to write their names on their cups. Better yet, turn to what lots of party planners love these days - Etch-It Cups.
7. Good Music. A party without music is no party at all. Find out ahead of time what music your guests like most. Or if it's a theme party, go with music that fits the theme. If the neighbors weren't invited to your party, be sure to watch the volume of the music. Many people let neighbors know of the party ahead of time to prevent any issues.
8. First-Aid Kit. Although unlikely, there's always the chance someone will get hurt. It's a good idea to keep a first-aid kit handy for minor bumps and scratches. Better safe than sorry.
9. Designated Drivers. Don't let someone ruin the party by leaving and driving home drunk. Make sure all of your guests have a designated driver. Some party hosts will even take the keys of anyone drinking at the party.
10. Good Attitude. A party is no fun if the host is stressed out. If you plan ahead for a safe and fun summer party, all should go smoothly. Once the guests arrive, know that you're prepared for anything and just enjoy yourself!
About Shindigz
Shindigz makes life more fun for 22 million events through the manufacture and sale of personalized party supplies. It ships products from its facilities in South Whitley, Indiana across the United States and around the world to 59 countries. With more than 36,000 products, it's been providing customers with complete party solutions since 1926. For more personalized birthday decorations and favors, visit Shindigz.com.