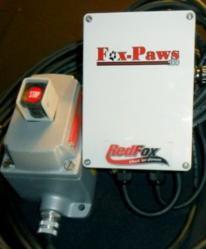 "When You Gotta Shut-er Down"
Worley, ID (PRWEB) June 11, 2013
Red Fox Enterprises has announced that their product the Fox-Paws Model 500 is being used by companies in the oil/gas fields. Their unit is being used as an emergency shutdown of service vehicles, while servicing gas/oil wells in the United States.
If a problem arises with the equipment being powered by a truck, for example, a hydraulic hose breaks, you can shut off the engine, stopping further spillage. If, while servicing a well, the operator hears the sound of gas coming up the drill stem, the vehicle or equipment can be shut off instantly. This is essential in preventing explosions with possible injuries and equipment damage.
The Fox-Paws Model 500 is designed with a 125 ft. cord, which attaches to the vehicle or equipment allowing options for vehicle placement. The switch to shut off the engine is enclosed in an explosion-proof metal case, as an additional safety measure.
As the boom in oil and gas exploration continues to expand, this product fills an important niche in providing a safe work environment. No other product does this as well as the Fox-Paws Model 500.
Red fox Enterprises makes a number of safety shutoff devices in a variety of configurations for many applications from farm and industrial equipment to atvs.
For additional information, contact: http://www.redfoxenterprises.com
Additional information on video: Fox-Paws Video