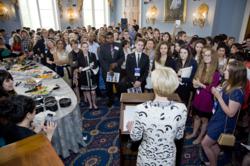 WASHINGTON, D.C. (PRWEB) June 10, 2013
American Councils for International Education is celebrating the 20th anniversary of the Future Leaders Exchange (FLEX) program which is responsible for bringing over 22,000 international high school students to study in the U.S. American Councils is marking the occasion today by hosting a reception on Capitol Hill with Assistant Secretary of State for Educational and Cultural Affairs Ann Stock from the U.S. Department of State's Bureau of Educational and Cultural Affairs. 180 current FLEX students, FLEX alumni, host families, and NGO-partners will join Members of Congress to attend the celebration being held in the Longworth House Office Building.
"The FLEX program has been an amazing opportunity for the people of Eurasia and the people of the United States to learn more about each other and create ties that continue long after the program. Students who have participated in FLEX show profound optimism about their ability to contribute to their communities and countries," commented Lisa Choate, Executive Vice President of American Councils.
The FLEX program is a high school exchange program sponsored by the U.S. Department of State's Bureau of Educational and Cultural Affairs, and administered by American Councils. FLEX was created by Congress in 1993 to ensure long-lasting friendship and understanding by enabling young people from Eurasian countries to come and learn about the United States.
Since 1993, more than 22,000 FLEX students, from 12 Eurasian countries have received scholarships to spend a full academic year attending a U.S high school and living with American host families. During the program, students engage with their communities, share culture, develop leadership skills, and learn about American society. FLEX participants have volunteered more than 1 million hours of community service across the United States during the lifetime of the program. Countries currently sending students on the FLEX program include Armenia, Azerbaijan, Georgia, Kazakhstan, Kyrgyzstan, Moldova, Russia, Tajikistan, Turkmenistan, and Ukraine.
"The FLEX program represents American values and ideals in action, rather than as words on a page. Moreover, exchange alumni in their home countries take on increasingly important roles in government, the private sector and the NGO community," noted Dr. Dan E. Davidson, President of American Councils.
About American Councils:
A leader in international education, academic exchange, and overseas language immersion, American Councils prepares individuals and institutions to succeed in an increasingly interconnected world.