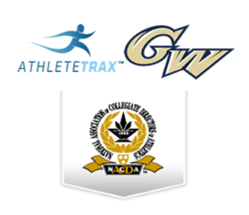 The AthleteTrax team has done a great job in working with us to identify a number of
unmet needs in our athletic department.

-Patrick Nero (GW Athletic Director)
Pittsburgh, PA (PRWEB) June 11, 2013
AthleteTrax, a college athletics software solutions provider, announces the expansion of its partnership with The George Washington University (GW). AthleteTrax piloted the solution with GW over the last year to develop a unique product that unifies the academic and athletic ecosystems.
"The AthleteTrax team has done a great job in working with us to identify a number of unmet needs in our athletic department. They are collaborating very closely with our academic support team, coaches, student athletes and strength and conditioning coaches to help us to derive all the benefits we can from this compelling solution."
-Patrick Nero (GW Athletic Director)
"We are excited to expand the partnership with GW. Working with Director Nero and his staff has been a wonderful experience. The initial partnership has given us the opportunity to launch our product and continue expanding our customer base to many other universities."
-Jon Halpern (Co-Founder and CEO; GW Entrepreneur)
AthleteTrax will exhibit at booth 914 at the upcoming NACDA Convention in Orlando, FL this week on June 13-14. Several representatives will be available to educate attendees about the value the AthleteTrax solution can provide to an entire athletic department to drive recruitment, retention, and success of student athletes.
About AthleteTrax:
AthleteTrax is a cloud-based solution for coaches, administrators, and student athletes to simplify, connect and perform. AthleteTrax aids athletic administrators, coaches, and student athletes to manage their academic and athletic lives more efficiently. Through integrated scheduling, instant communication, video, workout tracking, and form management, AthleteTrax aims to increase academic and athletic performance for student
athletes.
About The George Washington University:
The George Washington Colonials consists of over 450 athletes and 23 varsity sports (10 men, 12 women, 1 co-ed), the majority of which compete in the NCAA Division I Atlantic 10 Conference.