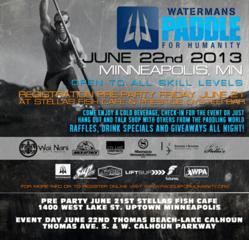 Minneapolis, MN (PRWEB) June 09, 2013
Paddlers from around the United States will descend on beautiful Lake Calhoun for the first annual Paddle for Humanity – Minnesota. The Paddle for Humanity is a grassroots paddling event series with the stated purpose of bringing the paddling community together to support humanitarian causes. The event is part of the first and only bi-coastal paddling series and was recognized as the SUP Philanthropic Event of the year, 2011. Paddle for Humanity is open to all paddle craft, including canoes, kayaks and traditional paddleboards. To register for the event click here: http://www.paddleforhumanity.org/html/Events-Minneapolis.html
Stand Up Paddle boarding, or SUP, has come a long way since it's conception in Hawaii. The fastest growing water sport in the world has found a solid foundation in the land of 10,000 thousand lakes, Minnesota. For the organizers of Paddle for Humanity, the Midwest hub is a beacon of light symbolizing the future of the sport. "The beauty of the sport of SUP is that you can take it anywhere and have fun," says event founder, Pete Stirling. Stirling added, "Any body of water is a good time, a possible business location and breading ground for future paddle athletes." A fact that is not lost on local SUP entrepreneur Holly Evans, founder of Wai Nani Surf & Paddle. "Over the past three years, Wai Nani Surf & Paddle has personally experienced the tremendous growth of the sport that has turned into the hottest fitness and social movement to hit the Midwest. With the endless amount of waterways in our region, accessibility to SUP is endless. This sport truly is for everyone," says Evans.
Event sponsor, SUP ATX played a strong roll in bringing the event to Minnesota. The Austin, Texas based company, that made a name for itself by bringing SUP from the ocean to lakes and rivers, plans to introduce the next step in the SUP revolution by showcasing its new line of standup paddle racing and touring boards. "We firmly believe in the growth, evolution, and longevity of the sport and we are excited to introduce a new line of boards that allows our customers to grow with our brand," says SUP ATX CEO Chris Dunn, a Minnesota native currently living in Southern California. Dunn added, "In addition to our new products we are also very pleased to introduce Minnesota to our new SUP ATX Racing team bringing our elite athletes to Lake Calhoun." SUP ATX Racing team athletes Lacie Flynn from West Palm Beach, Florida and Tyson Poppler from San Clemente, California will be competing in the 10K race during Saturday's events. Poppler, a world-class outrigger and SUP racer, will be conducting a paddle technique clinic Friday on Lake Calhoun, prior to the event. You can register for the free SUP paddle clinic here: http://www.eventbrite.com/event/7012824547
First and foremost, Paddle for Humanity is a fundraising event. Twenty percent of the proceeds from each entry fee are donated to one of five charitable organizations chosen by the paddler. Participants are also encouraged to raise additional funds for the organization of their choice. This years recipients include: The Best Day Foundation, LUNgevity, The Ocean of Hope (O2H) Campaign for the Sarcoma Alliance, the Navy SEAL Foundation and Talk About Curing Autism (TACA).
Sponsors for the event include SUP ATX, LiftSUP, Destination Surf, Watermans Sunscreen, Futures Fins, Landshark Lager and Tito's Vodka.
Paddle for Humanity is sanctioned by the World Paddle Association (http://worldpaddleassociation.com). The Paddle for Humanity – Minnesota is a Region 10 Points race.
About the Paddle for Humanity:
The Paddle for Humanity has raised more than $100,000 since its inception in 2009 and helped galvanize paddling communities across the country. The Paddle for Humanity is open to all paddle craft. For more info visit http://www.paddleforhumanity.org.
About SUP ATX:
SUP ATX is the #1 Stand Up Paddle Board Maker on Earth! Founded in 2009, SUP ATX designs, develops and manufacturers SUPs for oceans, lakes and rivers worldwide. The SUP ATX line of SUPs have defined and revolutionized the SUP industry worldwide, officially moving the sport from the shores of Hawaii and Malibu to lakes, rivers and surfing areas everywhere. Quality, customer service, and value are SUP ATX's principles in delivering the best SUPs in the marketplace. Visit: http://www.SUPATX.com/ or call 1-866-4-SUPATX to learn more.