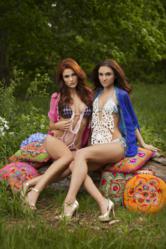 I decided to develop an entire line of knitted monokinis, using the same esthetic as my bikinis. The great thing about a monokini is the way it follows the curve of the body and creates an hourglass shape that makes heads turn!"
Add a quotable
New York, New York (PRWEB) June 09, 2013
Maggie May Monokinis are exotic creations knitted from ultra soft bamboo yarns in colorful combinations with lavish over-the-top trim. The eco-friendly bamboo plant has supreme wicking capability, and dries quickly, an added plus for swimwear.
"This hot fashion trend is very strong," states Magdalena (Maggie) Trever, the 27 year old designer and face of the company, "and that is why I decided to develop an entire line of knitted monokinis, using the same esthetic as my bikinis. The great thing about a monokini is the way it follows the curve of the body and creates an hourglass shape that makes heads turn!"
Trever has taken the industry lead in creating products made from super-soft bamboo, a strong yarn relatively new to the textile world and found mostly in high end products. "Bamboo is the perfect fiber for swimwear because it is anti-bacterial and anti-fungal," said Trever. "It is much safer against your body than ordinary lycra and nylon swimwear."
  
Maggie May bikinis, monokinis and coverups have been featured on Fox news, as well as in videos, magazines and blogs http://promotions.vf.com/maggie-may-swimwear
 
The Dallas Cowboy Cheerleaders chose many Maggie May styles for their 2014 Calendar and the bikinis have been featured in Sports Illustrated Swimsuit Edition the past two years, including a red knitted bikini worn by super model Kate Upton.