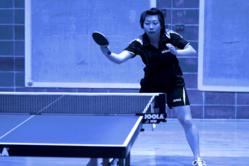 Piscataway, NJ (PRWEB) June 08, 2013
This weekend the Eastern Open celebrates its 16th consecutive year as a North American Tour stop. The competition returns to the Werblin Center at Rutgers University in Piscataway, New Jersey and will showcase some of the highest levels of US competitive table tennis!
This year, there are 165 registered competitors who will compete in 30 different events that are based on age and rating. Players include former and current National Team members as well as recreational players. JOOLA, an internationally recognized, name brand for table tennis is the equipment sponsor, providing 25 polished 3000 SC centerfold tables, barriers, scoreboards, and three-star competition balls.
Within easy driving distance of the New York City, Philadelphia, and Washington D.C. metropolitan areas, the Eastern Open regularly attracts players from all over the Mid-Atlantic and Northeastern regions and often brings in national and international elite players. High-level match play will definitely be a highlight of the tournament, as many long-standing rivalries will undoubtedly be renewed.
NATT invites anyone who is interested in learning about table tennis to visit the Eastern Open this weekend and watch some exciting matches!
About North American Table Tennis
Founded in 1998, North American Table Tennis (NATT) is the only table tennis-focused event planning company in the United States. Initially, the company operated a handful of professional tournaments, which eventually came to be known as the North American Tour and the North American Teams Championships. However, for more than 10 years, NATT has also partnered with USA Table Tennis, the national governing body for table tennis in the US, to manage the rating system as well as operate the US Open and US National Championships.
In recent years, NATT has spread its wings to include corporate and charity table tennis events as well. Having established excellent working relationships with its clients, NATT has many repeat customers and is often approached with new business proposals as a result of word of mouth advertising. Much of NATT's success can be attributed to its dedicated core management team, the majority of which comes from the sport of table tennis and understand the complexities of working in this specialized market.
For more information or questions regarding this press release, please contact Katherine Wu at Katherine (at) natabletennis (dot) com or visit http://www.natabletennis.com