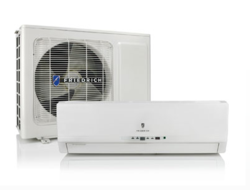 The Breeze is specifically designed for the DIY crowd. Everything needed for the Breeze comes in one box.
Miami (PRWEB) June 10, 2013
The popularity of ductless split systems (DSS) has grown rapidly in recent years as an attractive way to cool sunrooms, home additions, and manufactured homes without the added expense of expanding or installing a central air conditioning system.
While 12 percent growth over the past five years in the United States has been impressive, industry and consumer groups agree that installed cost (A/C unit + installation) is a major barrier to widespread adoption of the technology in the U.S. Friedrich wants to change that perception by bringing cost-effective DSS into Florida homes by offering its Breeze™ units through select retailers.
"We chose Florida to launch this retail push as the Sunshine State and the Southeast U.S. have been a leading market for DSS and split air conditioner technology," said Wink Chapman, Friedrich vice president of sales and marketing. "We think Breeze offers consumers another option to cost effectively cool their homes and builds on Friedrich's reputation for quality room air systems. The Breeze product line can satisfy those customers who can't afford central air but want an alternative to a standard window unit."
Friedrich, a manufacturer of room air conditioners for more than 60 years, is also expanding availability of this revolutionary product by adding retailers along the East Coast and across the nation to reach more markets. Its commercial-grade air conditioners can already be found everywhere from Texas oil rigs to upscale New York City apartments.
The Breeze offers an alternative to central A/C, which is ideal for home additions that can be a challenge to cool. With videos available on the Friedrich web site and excellent customer service, consumers can save hundreds of dollars by installing their own systems. Breeze also comes with the industry's only warranty that covers parts and labor for the first year for added peace of mind.
Installation is a Breeze
The Breeze is specifically designed for the DIY crowd. Everything needed for the Breeze comes in one box: an indoor unit with a 25-foot quick-connect line, outdoor unit, outdoor unit mounting pad and hardware, and LCD remote control. The box has even been specially designed to fit through narrow doorways. The quick connect refrigerant line, snap-in electrical connector and six-foot power cord on the indoor unit ensure that the installation is a snap. No expensive HVAC contractors and minimal time required. Breeze…it's that easy.
The small system (4,000 to 12,000 Btu/hour) works well for spaces that are less than 550 square feet, while the large system (12,000 to 24,000 Btu/hour) is designed for spaces that are from 550 to 1500 square feet. Each system will automatically adjust to individual cooling requirements using innovative Inverter Technology.
Breeze is quieter than window or thru-the-wall units because the compressor noise is outside in the condenser unit. All you hear indoors is the fan – which at 36dB is comparable to a library whisper. And outdoor noise intrusion is also minimized because the required window and wall openings are small (only a 3 inch hole is needed for thru-the-wall installation) and can be well insulated.
Other features include continuous air sweep, 24-hour timer, four fan speeds, and multiple operating modes including cooling, dehumidification, fan only, heat and auto. The light, neutral color can blend with décor and surroundings, making it great for room additions.
Visit Brandsmart to purchase direct from its Web site or http://www.friedrich.com to learn more about Breeze and other Friedrich products.
About Friedrich
Founded in 1883, the San Antonio-based company has manufactured room air conditioning units since 1952. It remains the sole room air conditioning manufacturer in North America. Friedrich's newest line of products includes the Breeze ductless split system, the Wi-Fi-enabled Kühl commercial-grade room air conditioning system, and the sleek consumer friendly Chill. Friedrich air conditioners are hardworking and long lasting. Constructed of the highest quality components, Friedrich products are built to exacting standards and are among the quietest and most energy-efficient available. If you demand the best, it has to be a Friedrich.