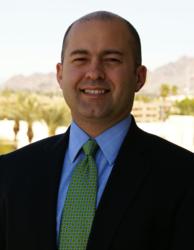 Phoenix, Arizona (PRWEB) June 10, 2013
Phoenix Attorney Jonathan O'Steen of the law firm of O'Steen & Harrison is urging all those who may have eaten Townsend Farms Organic Anti-Oxidant Blend frozen berry and pomegranate seed mix to consult with their physician immediately. The frozen berry product, sold at Costco stores in at least seven western states, is potentially associated with a number of hepatitis A infections.
According to the Maricopa County Health Department, hepatitis A vaccines may be effective in preventing the illness if they are administered within 14 days following consumption of the contaminated product.
O'Steen's law firm, together with Seattle-based Marler Clark, represents Karen Echard of Anthem who became ill in May after she ate some of the Townsend berry mix which she purchased at a Phoenix Costco store in April 2013. The two law firms representing Ms. Echard filed suit on Thursday against Townsend Farms. The Complaint filed in the U.S. District Court in Phoenix alleges that Ms. Echard contracted hepatitis A after eating the frozen berry mix, resulting in a five day hospitalization and continued medical problems.
The Centers for Disease Control (CDC) announced on Thursday that no fewer than 61 people have been infected with hepatitis A who were potentially connected to the Townsend Farms frozen berry product. Those affected range from 2 to 71 years in age and most are women. To date, no deaths have been reported.
"Hepatitis A symptoms commonly include fever, nausea, chills, lethargy, abdominal pains and jaundice," O'Steen said. He recommends that anyone who ate the Townsend Farms berry mix within the past few months contact his or her physician immediately to discuss inoculation and other appropriate diagnostic procedures.
Costco is offering free hepatitis A vaccinations to all its customers who purchased the affected berry product.
More information from the CDC may be obtained by clicking here.
# # #
REFERENCES: Echard v. Townsend Farms Incorporated, 2:13-CV-01146-MEA, U.S. District Court, District of Arizona.
Centers for Disease Control and Prevention, Multistate outbreak of Hepatitis A infections potentially associated with "Townsend Farms Organic Antioxidant Blend" frozen berry and pomegranate mix.
About O'Steen & Harrison, PLC
O'Steen & Harrison, PLC has protected the rights of injured accident victims and their family members since 1974. The firm concentrates on personal injury, medical malpractice and dangerous products including harmful drugs, defective medical devices and contaminated food products. O'Steen & Harrison is av-rated (the highest rating) by the prestigious Martindale-Hubbell Law Directory. The firm's attorneys have recovered more than $3 billion dollars for clients. O'Steen & Harrison offers free, confidential consultations to anyone who has been injured by a dangerous product. Call toll free 1-800-883-8888 or see our website at http://www.contaminatedfoodlawyers.com.
About Marler Clark
Marler Clark has represented thousands of victims of foodborne illness outbreaks, including victims of hepatitis A outbreaks, in lawsuits brought against food companies and restaurants across the nation. Marler Clark has brought food litigation cases involving defective or unsafe food products on behalf of food poisoning victims in all 50 states.