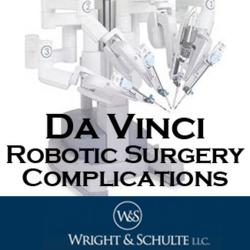 If you or a loved one has been injured by a da Vinci surgical robot contact Wright & Schulte LLC, a leading medical device injury law firm today at 1-888-365-2602 or visit www.yourlegalhelp.com
(PRWEB) June 10, 2013
The Da Vinci robot lawyers at Wright & Schulte LLC, an experienced medical device law firm, report that Intuitive Surgical Inc. has been named in a shareholder lawsuit over false and misleading statements the company allegedly made in regards to the Da Vinci Surgical System. Among other things, the lawsuit, which was filed late last month in U.S. District Court, Northern District of California on May 24th, accuses Intuitive and its officers of failing to disclose to the public information relating to Da Vinci surgical robot complications and possible regulatory restrictions on the device. The complaint further claims that Intuitive failed to properly set aside funds to cover potential liabilities from Da Vinci surgical robot lawsuits filed on behalf of patients who allegedly suffered serious personal injuries and death in procedures where the device was used. (Case No. 3:13-cv-02365-SC)
According to Wright & Schulte LLC, the filing comes just a little more than month after Intuitive Surgical reported in a filing with the U.S. Securities and Exchange Commission (SEC) that it had been named in 26Da Vinci robotic surgery lawsuits that allege injury and/or wrongful death due to the Da Vinci Surgical System, and that it had entered into tolling agreements with some claimants to suspend the statute of limitations. Among other things, the filing stated that the agreements would give the parties time to determine if the da Vinci surgical robot lawsuits had merit, and if any could be settled out of court.
(Intuitive Surgical SEC Filing, April 19, 2013;
sec.gov/Archives/edgar/data/1035267/000119
312513162385/d508282d10q.htm)
Wright & Schulte LLC continues to offer free Da Vinci Robotic surgery lawsuit consultations to victims of alleged Da Vinci robotic surgery complications, including those who suffered:

Tears and/or burns of the intestines
Punctured blood vessels
Punctured and/or cut ureters
Severe bowel injuries
Vaginal cuff dehiscence
Excessive bleeding
Surgical burns
Sepsis
Peritonitis
Death
For more information on filing a Da Vinci surgical robot complications lawsuit, or to arrange for a free legal consultation, please visit yourlegalhelp.com.
According to a Bloomberg News report from March 1st, Intuitive Surgical's Da Vinci Surgical System was used in 500,000 minimally invasive surgeries last year. However, the U.S. Food & Drug Administration (FDA) began surveying doctors earlier this year to determine if an increase in reports of da Vinci robot complications was an early warning of a problem with the technology. Adverse event reports received by the agency included damage to ureters and bowel, instances of instruments breaking off falling into patients, and surgical burns to organs and other tissue, Bloomberg said.
(Bloomberg News, February 28, 2013, bloomberg.com/news/2013-02-28/intuitive-surgical-robots-probed-by-u-s-in-survey-of-surgeons.html)
On March 14th, the American College of Gynecologists (ACOG) advised its members that robotic-assisted hysterectomy should not be the first choice for most women in need of the procedure. The group said in a statement that, while robotic surgery may have advances in certain complex hysterectomies, studies have shown that use of robots in routine surgical care does not improve patient outcomes.
(ACOG, March 14, 2013; acog.org/About_ACOG/News_Room/News_Releases/2013/Statement
_on_Robotic_Surgery)
Earlier this month, a Washington State jury returned a verdict favoring Intuitive Surgical in a da Vinci robot lawsuit filed by the family of a man who had died several years after suffering serious complications during a robot-assisted prostate removal surgery. However, according to a Reuters report from May 28th, an attorney for the plaintiff stated after the trial that more da Vinci surgical robot lawsuit filings are likely. He went on to predict that thousands of cases could be coming, and added that many will result in wins for plaintiffs.
(Reuters, May 28, 2013; newsandinsight.thomsonreuters.com/Legal/News/2013/05_-_May/Intuitive_Surgical_wins_case_over_robotic_surgery_system/, Reuters May 28, 2013)
About Wright & Schulte LLC
Wright & Schulte LLC, an experienced personal injury firm, is dedicated to the belief that America's legal system should work for the people. Every day, the attorneys of Wright Schulte LLC stand up for the rights of people who have been injured or wronged, and fight tirelessly to ensure that even the world's most powerful corporations take responsibility for their actions. If you're looking for a law firm that will guarantee the aggressive and personal representation you deserve, please do not hesitate to contact Wright & Schulte LLC today. Free Da Vinci robotic surgery complications lawsuit case evaluations are available through yourlegalhelp.com, or call 1-800-399-0795.
Contact:
Wright Schulte LLC
812 East National Road
Vandalia, Ohio 45377
1-800-399-0795
http://www.yourlegalhelp.com