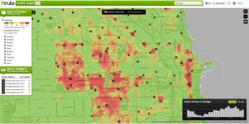 Whether or not the housing market is impacted directly by the recent Boston bombing, the fact that the local economy has taken a hit means we can expect a ripple effect on housing regardless.
Los Angeles, CA (PRWEB) June 10, 2013
Whether the site of a tragic event, or made infamous by a widely publicized criminal case, the effects of terrorism and stigmatized properties have a detrimental impact on housing markets. According to Main Street, real estate expert Randall Bell says stigmatized properties usually sell for 15 to 20 percent lower than fair market value and take significantly longer to sell -- anywhere from three months to a year more.
In light of the recent Boston marathon bombing, GoBankingRates.com examines three major examples of stigmatized housing markets.
1. Boston - Boston Marathon Bombings
The GoBankingRates.com investigation explains that because the Boston bombing was an isolated incident, the consequences for the local housing market will not likely be long-term. However, a decline in visitors in the weeks after the Boston bombing may continue to create a passive problem for the local economy as a whole.
According to BostonUSA.com, the city draws over 22 million visitors a year, adding $8.6 billion in revenue. The local economy thrives on its tourism — not to mention the annual marathon brings in over $140 million alone.
GoBankingRates.com managing editor, Casey Bond, explains, "Whether or not the housing market is impacted directly by the recent Boston bombing, the fact that the local economy has taken a hit means we can expect a ripple effect on housing regardless."
2. Cleveland - Ariel Castro Kidnappings
When it comes to individual homes, the GoBankingRates.com report confirms that stigmatized properties also experience significant depreciation. In the case of Ariel Castro's Cleveland, Ohio residence at 2207 Seymour Avenue, the GoBankingRates.com' investigation finds a similar home averages a list price of $122,850, but due to the property's tainted history, it is currently listed at $40,000 less.
See the full report:
http://www.gobankingrates.com/mortgage-rates/terrorism-crime-affect-housing-market/
For home buyers who can get past the events that transpired in housing markets like these, the savings are huge.
"If you're seeking to move into a city like Boston, consider that you can be one of the people who sheds the city of its temporary stigma," says GoBankingRates.com contributor Paul Sisolak, adding, "Rallying against the effects of terrorism is a sign of strength — it takes people to revitalize its image by visiting, shopping and living in those areas."
For questions about this report or to speak with a GoBankingRates.com editor, please use the contact information below.
About GoBankingRates.com
GoBankingRates.com is a national website dedicated to connecting readers with the best interest rates on financial services nationwide, as well as informative personal finance content, news and tools. GoBankingRates.com collects interest rate information from more than 4,000 U.S. banks and credit unions, making it the only online rates aggregator with the ability to provide the most comprehensive and authentic local interest rate information.
Additionally, GoBankingRates.com partners with a number of major media outlets such as Business Insider and US News & World Report to provide compelling and edifying personal finance content. Its expert editors have been featured and quoted on several premier finance websites like Yahoo! Finance, Forbes, The Street, Huffington Post and more.
Contact:
Jaime Catmull, Director of Public Relations
GoBankingRates.com
JaimeC(@)GoBankingRates(dot)com
310.297.9233 x261
###
Sources:
Main Street, "Would You Buy The Ariel Castro House Where He Brutalized Three Women?," May 2013.
Trulia, Home Listings, 2013.
BostonUSA.com, "Tourism Statistics & Reports," 2012.