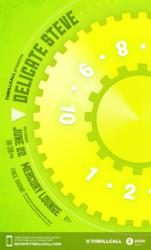 This is an opportunity to showcase the ease of using Thrillcall to see live music while also doing something good
New York, New York (PRWEB) June 10, 2013
Thrillcall, a live event discovery service with exclusive daily offers, is partnering with Oxfam America, a global organization working to right the wrongs of poverty, hunger, and injustice, to host a benefit concert series at Mercury Lounge in New York City (NYC) exclusively for Thrillcall users. Passes will be available at no charge with any voluntary donations going to Oxfam America; simply download the Thrillcall app, either on Android or iOS.
The first in the concert series, Delicate Steve, a soulful rock unit with unique instrumental style, will debut at the Mercury Lounge on June 22. Passes will be available exclusively through Thrillcall's mobile app starting on June 14, 2013!
A total of five artists will be showcased at the Mercury Lounge as part of the benefit concert series. Stay tuned as each artist will be revealed following the previous artist's performance. Show dates will be announced a week prior to each performance and passes will be available exclusively through the Thrillcall mobile app. Users of the app will also be able to preview music and share show details with friends.
Supporting Quotes:
"This is an opportunity to showcase the ease of using Thrillcall to see live music while also doing something good," said Frank Woodworth, director of business development, Thrillcall. "This is going to be a great series of events. The bands are stellar. The Mercury Lounge has some of the best sound and sight lines in New York, and Oxfam America is an organization we believe in."
"We have a long history of partnering with musicians to raise awareness of rights, poverty and hunger issues," says Bob Ferguson, manager, Creative Alliances & Music Outreach, Oxfam America. "We fundamentally believe music can help change the world and it's with the support of our partners, like Thrillcall, and supporting artists, that we fulfill our ongoing quest to right those wrongs."
About Thrillcall
Thrillcall is a live event discovery service with exclusive daily offers, providing real-time online and mobile alerts, so you can access the best your city has to offer tonight. Using the most up-to-the-minute data available, Thrillcall keeps you informed on the local live music scene. Our mobile app lets you decide on a whim to go to a show and access an exclusive offer or browse local concert listings. With "one-touch" ticket purchase right in your hand, the Thrillcall mobile app gives you insider's access to incredible shows every night.
For more information, please visit http://thrillcall.com or http://getapp.thrillcall.com