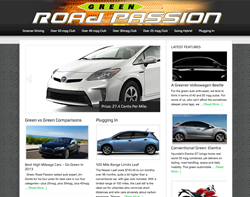 At the end of 60,000 miles, our cost of ownership for the test Toyota Prius is less than half that of conventional cars at 27.4 cents per mile.
Toronto, Ontario (PRWEB) June 08, 2013
EPA numbers may be mythical, and rarely play out in the real world—with the notable exception of the Toyota Prius—but its still the only impartial guide to the possible economy and greenness of a car, reports Green Road Passion Magazine. In this week's special edition, Road Passion runs down the top four prospects for best gas mileage in different categories. Also, in this edition, Toyota Prius, a long term tester with a real world 53.45 miles per gallon combined, costing only 27.4 cents per mile to run.
"Best High Mileage Cars — Go Green in 2013"
Green Road Passion asked auto expert Jim Gorde for his four picks for best cars in our four categories—plus 25mpg, plus 30mpg, plus 40mpg and plus 50. Our readers asked us: what's the best bet if one can't afford the ultimate green car, the Tesla S. We asked Jim to bypass the gold standard Toyota Prius to give newcomers a fair shake at a solid recommendation. The Prius is the benchmark for comparing these choices. Read more…
"Prius: 27.4 Cents Per Mile"
At the end of 60,000 miles, our cost of ownership for the test Toyota Prius is less than half that of conventional cars at 27.4 cents per mile. No services were required other than regular oil changes. The car averaged 53.45 mpg with "green driving" techniques suggested in tips from Green Road Passion. Read more…
"77 mpg on Two Wheels"
Going Green Drive often seems to imply compromise. Slower acceleration to sip gas, more money for expensive batteries, leading edge electric cars such as Tesla that are affordable to some, but hefty in price. But what if a performance driver isn't willing to give up performance to gain the 50 mile-per-gallon club? We have a two-wheeled answer, and it's not peddled. Read more…
About Green Road Passion
Green Road Passion zine is passionately dedicated to driving the greener way. We believe that road passion does not just mean the thrill of speed and the open road, the joy of the journey—we are convinced that this joy must be guilt free to be really rewarding. With green driving, and green choices, we need not feel guilty about a thrilling trip across the nation, or a weekend jaunt to the hills. Green Driving makes driving fun again, removing the guilt that comes along with carbon emissions.
Each month we cover

Green Driving Tips
Driving Further: True Passion for the Open Road
Full Electric Vehicles
Hybrid Vehicles
Reviews and Road tests of vehicles in four classes: 50 miles per gallon plus; 40 miles per gallon plus; 30 miles per gallon plus; 25 miles per gallon plus (typically reserved for utility vehicles with high mileage).
At Green Road Passion, we dream about a sustainable future, where road passion is not extinct. We don't believe the answer to environmental issues is to give up the necessity and pleasure of driving. We believe no-emissions is viable for mainstream transportation in the near future, at affordable prices. Read along with us as we report on the latest technologies in Greener Driving.
Green Road Passion is a publication of Zines Online, a Persona Corp. service.