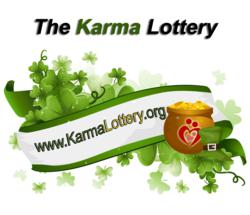 Give dad a chance to retire for Father's Day
Agawam, Massachusetts (PRWEB) June 10, 2013
Looking for a great gift for dad on Father's Day? The Orphan Foundation thinks that their "Karma Lottery" just might be that perfect gift. The Karma Lottery gives dads a chance to win big – and possibly even retire - because of donations made by their children in their fathers' name. The foundation does that by 'gifting' back a Massachusetts Lottery ticket to a dad when the foundation receives a donation from one of his children in dad's name.
How does the Karma Lottery work? Make a donation ranging from $5 to $250 in your father's name, and The Orphan Foundation will 'gift' back a lottery ticket to a donor's dad that ranges from a scratch-off ticket to a range of "season tickets" for the Massachusetts Mega Millions Lottery. The season tickets are for 26, 52, or 104 drawings, over a 3, 6 or 12-month period. The foundation will also register the season ticket for the donor's dad with the Lottery Commission, which means that the Mass Lottery will automatically notify him when he wins. There's no need for him to check the numbers when each drawing occurs.
The foundation says that this is the perfect gift for Father's Day because ultimately, the donation really creates two acts of kindness: helping an orphan find a loving home and family, as well as treating dad to a special gift on Father's Day. "What dad wouldn't smile at receiving a chance to win the lottery?" commented Dr. Tatiana DiDonato, Co-founder of the foundation. "We think it'll bring a smile to his face to know that the donation not only helped an orphan find a family, but it also gave him a chance to finally retire."
The Orphan Foundation claims that the notion of a "season ticket" being used by the Massachusetts Lottery is really a strong draw and a great differentiator from other state lotteries. "We take care of registering the season ticket on behalf of the donors, which means that they simply have to sit back and wait for the Mass Lottery to tell them that they've won," Joe DiDonato added. "And when it's a full-year season ticket, dads will be automatically entered into two drawings each week – something to continuously look forward to as the year goes by."
"Instead of creating a typical black-tie gala, we wanted to give something back to our donors besides an expensive dinner," reports Joe DiDonato, Co-Founder and President of the foundation. Based on the mantra of good karma and "what goes around comes around," the Karma Lottery is meant to inspire others to feel good about donating to a worthwhile cause, while at the same time, improving their own karma in the process. The foundation says that many people believe that once they release good karma into the universe, through their positive actions and thoughts, that good karma will be magnified and eventually returned to them during their lifetime.
But this fund-raiser is also about helping those children who don't have families. The foundation's mission is to help low and middle-income adopting families by providing financial grants to help them offset the cost of adoption. The foundation also says that they give additional consideration to those applicants who are adopting a child with "special needs," as their financial burden is much larger because of medical costs. An average adoption costs $18,000 domestically, and $25,000 or more internationally.
The Orphan Foundation reports selling season tickets as far away as Hawaii, a state that does not have their own lottery, in addition to Massachusetts residents who have been inspired by the fundraiser and the unique karma principle that it's based upon. At the highest donation level, the fundraiser sends co-founders Dr. Tatiana and Joe DiDonato on a trek across the Commonwealth to Ted's Stateline Mobil, where 3 big winners have emerged in the recent past: a $42M, a $35M and a $17M lottery winner. And now the Karma Lottery boasts 5 winners already in their unusual fund-raiser.
For more information on The Orphan Foundation's mission, please visit them online at http://www.TheOrphanFoundation.org/MAKarma.htm. To learn more about the Karma Lottery and how to donate to the cause, check out http://www.KarmaLottery.org. Please direct all inquiries to the Massachusetts Karma Lottery Office at 413.821.6993.
About The Orphan Foundation:
The Orphan Foundation is a 501(c)3 non-profit foundation, and is blessed with the wonderful mission of helping to rescue orphaned children - especially those children who are determined to have "special needs." The foundation helps lower and middle income US adopting families who are opening their hearts and homes to the world's orphans. These wonderful families have a significantly increased financial burden due to the cost of the child's associated medical or psychological treatments. The foundation is a resource for families adopting from both foster group homes, and also supports adoptions of all orphaned children around the world.