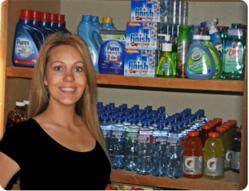 Boise, Idaho (PRWEB) June 08, 2013
According to the findings of MicroBot at http://goo.gl/s97JQ, a whopping 96.8 million adult internet users will embrace online coupons by the end of 2013. This percentage undoubtedly shows the popularity that coupons have been gaining in recent times. The rise in popularity comes as little surprise considering the economic downturn that so many people have been faced with. However, whereas acquiring coupons is an easy task and a task made even easier by the increasing sources such as offline, online, and mobile coupons, it is the use of coupons that has become increasingly difficult. However, expert couponer Jessica Hacker understands these vows all too well and aims to turn things around with the creation of her couponing website Living on a Coupon.
Living on a Coupon - Savings for Everyone
Containing easy to follow tips and tricks and video guides, all of which are provided without any charge, Living on a Coupon is a consumer's paradise. The website caters to all the basic questions that the people using coupons often have. Most shoppers believe that acquiring coupons is the main part. However, it is important to remember that coupons come with a large number of strings attached. These strings are in the form of complex policies and hidden terms, which are often obscured from plain sight. Therefore, when consumers try to avail their discount coupons, they are left disappointed only to find out that the coupon is for some particular item or has expired. Living on a Coupon ensures that such disappointments are never experienced.
About Living on a Coupon
With years of experience with coupons, Jessica Hacker has become a household name in the industry. The information that has been laid out on Living on a Coupon combines all those years of experience and knowledge. Budding couponers and normal consumers alike can learn more about the secrets of couponing at http://www.livingonacouponsecrets.com. More information about Jessica Hacker can be acquired on http://www.livingonacoupon.com.