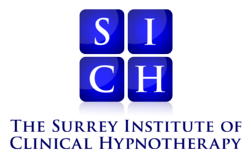 I have yet to meet anybody who has had 'gastric band hypnotherapy programme' that has lost and kept off the weight, without supporting changes in behaviour
Wallington, Surrey, UK (PRWEB UK) 8 June 2013
The report highlights that over the last couple of years there has been an influx of clients wanting gastric band hypnotherapy.
The Surrey Institute of Clinical Hypnotherapy has seen a large number of clients wanting hypnotherapy for weight loss, asking about the 'hypnotic gastric band'.
When the idea for gastric band hypnotherapy was developed at the Surrey Institute of Clinical Hypnotherapy in 2005, it was designed to be used as just part of our weight control programme.
Since then many hypnotherapists have created a whole therapy based on it, having the client visualising the preparation, the pre-surgery interview and then go through the operation, all whilst under hypnosis.
Paul Howard, Director of the Surrey Institute of Clinical Hypnotherapy, and Marketing Director at the National Council for Hypnotherapy, said, "This whole procedure can take up to 4, sometimes even 6, sessions, whereas the Surrey Institute of Clinical Hypnotherapy believe in the first place that it only takes about 15 minutes to install the hypnotic gastric band. For the vast majority of weight loss clients, it is totally inappropriate and, therefore, unethical to be using it as a technique, let alone 4+ sessions."
"I can understand the lure from a client's point of view. It is an ideal scenario, no surgery, a fraction of the cost and no after-surgery complications or pain. But the fact of the matter is that for most people with weight control issues, it has little or no practical application."
Howard continues, "If you are eating large portion sizes alone, then it may have some beneficial effect, but for most people the decision point of what and how much to eat is way before you actually sit down to eat. I have yet to meet anybody who has had 'gastric band hypnotherapy programme' that has lost and kept off the weight, without supporting changes in behaviour."
In the report they explain why the gastric band hypnotherapy is not the golden panacea that it is portrayed to be.
For many people the main question in their mind is does hypnotherapy work? However, with the amount of research available showing the efficacy of hypnotherapy, the question they should be asking is how well will hypnotherapy work for me?
Paul Howard is a Director of the Surrey Institute of Clinical Hypnotherapy where he has been practising hypnotherapy in Wallington, Surrey for over 11 years. He specialises in hypnotherapy for anxiety and psoriasis and is a Fellow and the Marketing Director for the National Council for Hypnotherapy.