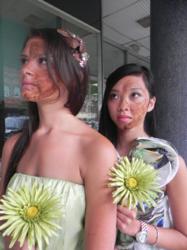 Skin care routine containing harmful chemicals is the equivalent of slapping motor oil on the face.
Salisbury,NC (PRWEB) June 11, 2013
Renu Derma Natural Cosmetics joined with supporters around the world to celebrate World Environment Day on June 5, 2013. Renu Derma's activities focused on the awareness of and a protest against the use of harmful chemicals in skin care products.
Beautiful live models, dressed in green to represent the planet, walked through downtown Salisbury, NC carrying flowers. Their beauty was startlingly marred by the black paint covering the left side of their faces. While not actual motor oil, the face paint was a graphic demonstration that a skin care routine containing harmful chemicals is the equivalent of slapping motor oil on the face.
Since many cosmetic products are manufactured in China and are not regulated by the FDA, the grade and level of ingredients such as refined vaseline are unknown. An EU report states that the consumer purchasing a product containing petrolatum has no way of knowing the amount of carcinogenic PAHs contained. How skin-safe can mass produced products be if environmentally and physically harmful ingredients are part of their make up?
Renu Derma Natural Cosmetics offers a healthier alternative. Every item in the Renu Derma family of natural skin care products is created with love, dedication and safe ingredients.
Renu Derma reached out to national audiences with this same message by showcasing their event on different social media platforms. The ever-growing list of over 3000 email subscribers received the announcement of World Environment Day activities and a list of harmful ingredients were posted on company blog sites. Video highlights of the event can be seen on Renu Derma's Youtube channel, Facebook, Twitter, Linkedin and Google+ pages.
"This type of multi-level action call helps us reach a variety of audiences and deliver our message to different groups of people," says Maia Smith, Image and Beauty expert and founder of Renu Derma Natural Cosmetics. "We encourage anyone interested in healthy living and natural skin care products to connect with us on your choice of social platform or to Sign up for the company newsletter," adds Maia.
The Renu Derma mission is to educate consumers and give them the choice of natural skin care products which are safe for their health and for the planet. The company plans to add podcasts to its educational platforms and host interviews with skincare experts delivering updated information and best practices for anti-aging and skin health.
Renu Derma Natural Cosmetics provides organic, anti-aging products for people who desire effective,natural skin care products. Visit http://www.renuderma.com for valuable information and be the first to know about special offers.
Maia Smith is a founder, CEO, leading Image and Beauty Expert and Author who has appeared in a variety of women's magazines and newsletters. She has over twenty thousand page views and database of four three thousand of loyal members.
Contact Maia at info(at)renuderma(dot)com
Tel: (866) 964 3932
Address: 103 S. Main St. Salisbury, NC 28144