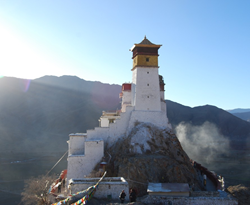 (PRWEB) June 10, 2013
Explore Tibet, a Lhasa-based Tibet tour company, is now offering some tips to travel to Shannan district of Tibet.
Tibet travel is continuing to heat up, but the Shannan district of Tibet has always been a blind zone to the tourists. Shannan is the ancient capital of Tubo (Tibetan regime in ancient China) and the origin of Tibetan culture which possesses the first palace, the first temple and the first village of Tibet. A senior tour guide from Explore Tibet suggests that travel to Tibet include Tibetan Buddhism, a journey to Tibetan history as well as visiting the unmissable Shannan district.
Ou zhu, a tour guide who has 12 years' working experience, introduces that the Yungbulakang palace, which is the first palace of Tibet, should be the first station of this trip. Tourists will visit not only the living place of Srong-btsan Sgam-po and princess Wencheng,but also the first village of Tibet. What's more, visitors can learn its history from nomadic life of tribes by tracking the first farm employed by the emperor.
The winter palace of Srong-btsan Sgam-po and princess Wencheng is not far from Yungbulakang palace. Tourists are interested in the first buddha hall there. The copper pot and Thang-ga( a special scroll painting of Tibetan Buddhism) used by princess Wencheng are worth exploring. If you are lucky, you might see the temple treasure—the Pearl Thang-ga of the Palmer Bead Dynasty.
Explore Tibet is a locally-owned travel agency committed to responsible tourism, kailash tour and sustainable practice.