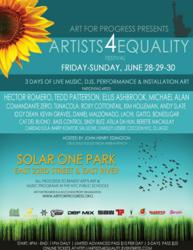 Featuring live bands, DJ's, performance and installation art, along with great food, beer and wine.
(PRWEB) June 12, 2013
New York City 501 (c) 3 nonprofit organization, Art for Progress (AFP, artforprogress.org) will bring its support and celebration of equality during NYC's Gay Pride Weekend, with "Artists 4 Equality" June 28th through 30th, 4-11pm. The organization's second annual music and arts festival will take place at Solar One Park, located in Manhattan on the East River at 23rd Street. Featuring live bands, DJ's, performance and installation art, along with great food, beer and wine, it will be a top destination during NYC's Pride Weekend.
Solar One Park is the perfect outdoor venue for the festival (ages 21+), which kicks off on Friday, June 28th. The opening night will feature live music from some of the most exciting emerging artists in NYC, including Ellis Ashbrook. The Brooklyn-based genre bending band brought down the house at last year's "Mixed Greens" event at The Paper Box. They're currently working on their 4th album and we're sure to hear a couple of selections of their newest grooves Friday evening.
Saturday's focus will shift to dance and electronic music with DJ/Producer Hector Romero headlining the evening. When Hector's not traveling the world energizing dance floors from Italy to Mexico, he's running Def Mix Records and honing his own production skills. Hector's eclectic taste and diverse sets make him a favorite of clubbers and music lovers worldwide.
On Sunday, NYC Cielo resident DJ/Producer Tedd Patterson will headline the night. Patterson's known as a master craftsman of adventurous, relentless and wildly dynamic sets that touch all dance music genres. Tedd's been packing dance floors for over two decades and we'll expect nothing less to as we close out an incredible weekend of performances.
Cutting edge performance and installation art will be highlighted throughout the three-day festival as the park turns into a virtual adult playground of art & music. On Saturday, acclaimed artist Michael Alan will create a special installation during the festival. Alan recently teamed up with AFP in late 2012 for a special event in downtown Manhattan, where life, music and art culminated in a fantastic "Living Installation."
This year's lineup of "Artists 4 Equality" will all add up to a unique festival that is not to be missed.
Confirmed Artists include Hector Romero, Tedd Patterson, Ellis Ashbrook, Michael Alan, Kim Holleman, Idgy Dean, Andy Slate, Roxy Cottontail, Kevin Graves, Daniel Maldonado, Gatto, Lachi, Cat Del Buono, Tunacola, Berette Macaulay, Bass Control, Comandante Zero, Sindy Butz, Bonesugar, Caridad Sola, Atilla the Hun, Sal Leone, CocoonNYC, Barry Komitor, Chaisley Lussier, DJ Jago and more TBA.
*Festival doors open at 4pm each day and close at 11pm.
Tickets can be purchased at the door, or in advance at http://artists4equality.eventbrite.com. Special early bird passes are currently on sale through June 15th for $8 (daily pass) and $20 (three day pass). Regular ticket prices will be $10 (daily pass) and $25 (3-day pass).
*Solar One Park (East 18th-23rd Streets along the East River) can be easily accessed by the 23rd Street crosstown bus and the FDR, with a large parking garage/lot located on-site.
Delicious gourmet food by Herb n' Peach, and a selection of fine wines
*Two-for-one beer from 4pm - 6pm daily
Special Thanks: Six Point Brewery, Sleepys, Swish, Herb n' Peach, Hector Romero, Tedd Patterson, Solar One
Art for Progress: http://www.artforprogress.org
Solar One - http://www.solar1.org/programs/arts-events/arts-subject-1/
Hector Romero – https://www.facebook.com/hectorromeronyc
Tedd Patterson – http://www.teddpatterson.com/site.html
Six Point - http://sixpoint.com/