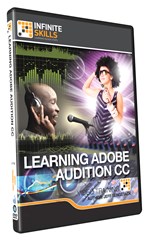 Learn How To Use Adobe Audition At Your Own Pace
(PRWEB) June 11, 2013
Software training firm InfiniteSkills Inc. this week released its "Learning Adobe Audition CC Tutorial," a course designed to teach beginning and experienced users how to use essential Audition features to produce quality sound files.
With the release of the Creative Cloud version, Adobe Audition is now a cloud-accessed application with many new features, including an improved sound removal tool, enhanced multitrack editing, and new tools for sound design.
With InfiniteSkills' Learning Adobe Audition CC Video Training, users will be able to integrate these new features into an audio production workflow quickly and efficiently, learning new tools, fundamental editing techniques, and picking up tips and tricks from a seasoned expert in the audio editing field.
Adobe Audition CC Training Video
Course author Jeff Sengstack worked as a radio DJ in college before spending the first decade of his career in audio and video production for television. He currently teaches audio and video production on the college level, and has written several instructional books for Adobe products. He was selected among a small group of beta testers for the first edition of Audition in 2003.
In Learning Adobe Audition CC Video Tutorial, Sengstack guides students through two studio recording sessions using Audition. As they perform hands-on tasks in the Audition workspace, students learn important skills as Sengstack explains Audition essentials. All the tools are brought together in a final project as students work alongside Sengstack to create final versions of their work and publish in various file formats.
After explaining the basics of the Audition workspace, Sengstack covers its diverse palette of editing features, including both the waveform view and the spectral pitch display, how to crop sections, and copy, cut, and paste audio, and much more. He also covers effects like delay and echo, filter and equalization, and modulation and reverb, before focusing on noise reduction and restoration tools, audio analysis, and multitrack sessions, just to name a few.
"Adobe Audition is a full featured audio production studio," Sengstack says. "My goal is that by the end of this course you'll take what you have learned to create some great sounding audio."
Free demo videos and a full list of course contents can be found on the Learning Adobe Audition CC training page on the company website:
http://www.infiniteskills.com/training/learning-adobe-audition-cc.html
InfinteSkills offers its Learning Adobe Audition CC Tutorial either as a DVD or a direct download from the company website at a retail price of $99.95. All InfiniteSkills titles and formats are compatible with both Mac and Windows, and shipping is available across the globe. InfiniteSkills tutorials are supported by project files which correspond to examples in the videos.
About InfiniteSkills Inc.
A pioneer in the field of technology training, InfiniteSkills tutorials are based on a task-oriented model for teaching complex technology concepts, teaching skills as users perform basic tasks guided by an InfiniteSkills expert. InfiniteSkills offers a comprehensive range of software tutorials as DVDs, digital downloads, and in iPad editions, keeping with company aim of delivering professional training to customers anywhere they want to learn.