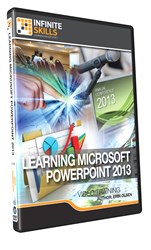 Learn How To Use Microsoft Powerpoint At Your Own Speed
(PRWEB) June 12, 2013
Software training firm InfiniteSkills Inc. this week introduced its "Learning Microsoft Powerpoint 2013," a course designed to provide professionals and students with a functional understanding of key Powerpoint features and techniques including basic slide creation and multimedia integration.
Powerpoint presentations usually consist of a number of individual pages or slides that can contain text, graphics, sound, movies, or other objects. Part of Microsoft's Office Suite, Powerpoint is easily the most popular software of its kind, with an estimated 30 million presentations given per day using the program.
InfiniteSkills' Learning Microsoft Powerpoint 2013 explores all the techniques and features users need to create informative and professionally tailored presentations, perfect for any office or educational environment.
Learning Microsoft Powerpoint 2013 Video Training - DVD
Course author Erin Olsen, a Microsoft Certified Instructor, holds a master's degree in education with emphasis on instructional design and technology. She has been a computer trainer since 1994, starting with Windows 3.1. Her training style is based on real-world experience as an entrepreneur, orienting her instruction style toward the practical needs of everyday users in a business environment.
Olsen experience equips her with the insight and expertise make "Learning Microsoft Powerpoint 2013" a fun and insightful way to master the finer points of Powerpoint and maximize its extensive capabilities for integrating, organizing, and sharing information.
After opening with chapters explaining Powerpoint's workspace and view settings, Olsen explains how to make your first photo album and begin creating a basic slide show.
As the course continues, she explains how to work with slides to create presentations from scratch, how to use customization features, and how to begin organizing information in Powerpoint including outlines, text, and objects. Students will learn how to use drawing tools and shapes, work with images and SmartArt, as well as tables, charts, and other multimedia elements.
The course concludes with tips for delivering polished Powerpoint presentations, including how to work with animation and transitions.
"My goal," Olsen adds, "is to help you learn the "why," not just the "how," so you truly understand how this program works. if you understand why things are actually happening, you'll be able to respond to the specific situations you encounter."
Free demo videos and a full list of course contents can be found on the Learning Microsoft Powerpoint 2013 training page of the InfiniteSkills website:
http://www.infiniteskills.com/training/learning-microsoft-powerpoint-2013.html
InfiniteSkills offers its Learning Microsoft Powerpoint 2013 Training Video either as a DVD or a direct download from the company website at a retail price of $99.95. All InfiniteSkills titles and formats are compatible with Mac and Windows operating systems. Shipping is available around the globe. Additionally, InfiniteSkills tutorials are supported by project files which correspond to examples in the videos, allowing users to work alongside experienced instructors right on their computer or iPad.
About InfiniteSkills Inc.
A leader in the field of software training, InfiniteSkills strives to offer the highest quality training available at an affordable cost. InfiniteSkills tutorials are task-oriented instructional videos, teaching complex skills by providing hands-on examples and guiding users as they carry out critical objectives. InfiniteSkills offers a comprehensive range of software titles available as DVDs, digital downloads, and in iPad editions, keeping with company aim of delivering professional training to customers anywhere they want to learn.