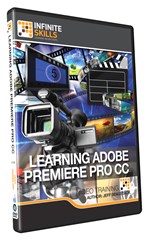 Learn Adobe Premiere Pro CC At Your Own Pace
(PRWEB) June 13, 2013
Software training firm InfiniteSkills Inc. this week released its Learning Adobe Premiere Pro CC Tutorial, a course designed to teach both beginning and experienced Premiere users to quickly and efficiently integrate the latest version of this professional-level video editor into a video production workflow.
With the Creative Cloud version of Premiere Pro, Adobe has shifted its programs from the locally accessed Creative Suite version to cloud-based applications. The new version also has significant changes to the timeline work environment along with several other new and updated features.
InfiniteSkills' Learning Premiere Pro CC Training Video covers many key new features, explaining how standard tools have been re-fitted to the cloud-based environment, while also providing a strong introduction to essential Premiere Pro editing tools, allowing new users to begin creating professional-level videos quickly and efficiently.
Learning Adobe Premiere Pro CC Video Training
Course author Jeff Sengstack began his career in television broadcast and currently teaches computer science on the college level. An expert in the Creative Cloud line of software, Sengstack has authored several books on Premiere Pro and other Creative Cloud applications in addition to his training and teaching practice.
Drawing on his extensive experience in media production, Sengstack offers a practical introduction based on the realities of video production, offering insight on fast and efficient editing as he teaches key features and skills involved in using Premiere Pro.
After explaining how to set up the program to run cleanly and efficiently, Sengstack covers all the tools and techniques involved in video production. He starts with importing audio and video assets, then covers basic editing tools before moving on to advanced editing topics like specialized edits, working with transitions, applying effects, and performing color correction.
Other chapters cover working with layers, using keyframes to animate effects, including titles and graphics, and mixing audio and applying audio effects, before closing with a lesson on exporting projects in various file types.
Free demo videos and a full list of course contents can be found on the Learning Adobe Premiere Pro CS6 Mobile training page of the InfiniteSkills website:
http://www.infiniteskills.com/training/learning-adobe-premiere-pro-cc.html
"Premiere Pro CC is a powerful, feature-rich, professional video editor," Sengstack says. "In Learning Adobe Premiere Pro CS6, I'll provide all the tools users need to create excellent videos!"
InfiniteSkills offers its Learning Premiere Pro CC Training Video either as a DVD or a direct download from the company website at a retail price of $99.95. All InfiniteSkills titles and formats are compatible with Mac and Windows operating systems. Shipping is available around the globe. Additionally, InfiniteSkills tutorials are supported by project files which correspond to examples in the videos, allowing users to work alongside experienced instructors right on their computer or iPad.
About InfiniteSkills Inc.
A leader in the field of software training, InfiniteSkills strives to offer the highest quality training available at an affordable cost. InfiniteSkills tutorials are task-oriented instructional videos, teaching complex skills by providing hands-on examples and guiding users as they carry out critical objectives. InfiniteSkills offers a comprehensive range of software titles available as DVDs, digital downloads, and in iPad editions, keeping with company aim of delivering professional training to customers anywhere they want to learn.