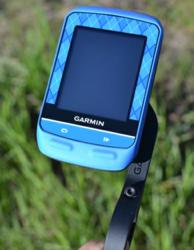 The Edge 510 offers real-time uploads with iPhone 5 or 4S of all your data and location maps directly to Facebook or Garmin Connect software
Bozeman, MT (PRWEB) June 09, 2013
The new Garmin Edge 510 team edition GPS bike computer has finally arrived and is available at the Heart Rate Watch Company.
"The team edition is in the blue and argyle patterns of Team Garmin and is the same bike computer the riders will be using in this year's Tour de France," says Rusty Squire, President of the Heart Rate Watch Company. He adds, "If you have any blue in your bike's color scheme it is the perfect fit."
REAL TIME iPHONE UPLOADS
"The Edge 510 offers real-time uploads with iPhone 5 or 4S of all your data and location maps directly to Facebook or Garmin Connect software," says Squire. He adds, "It also has a real-time weather feature that is really trick."
Squire recommends that those wanting turn-by-turn directions and full color maps go with the Garmin Edge 810. "The Edge 810 is the most sophisticated bike computer on the planet and for touring nothing else even comes close," says Squire.
WHY SCREEN ANGLE MATTERS
"We recommend that cyclists use the new Garmin Edge out front bike mount which comes with both the Edge 510 and Edge 810 bundles with cadence," says Squire. He adds, "This is because they can control the screen angle better and be safer because the screen is further forward."
Getting the screen angle as close to 90 degrees perpendicular to the end of your nose helps control screen glare according to Squire. He says, "Bike computers that lay flat on a stem with no adjust ability, or potential for inclination, fall victim to screen glare and are seldom perpendicular to your field of view."
The new Garmin Edge 510 Team edition is available at the Heart Rate Watch Company and provides all the data cyclists need to improve their cycling performance.