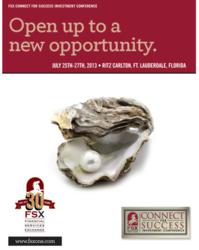 Fort Lauderdale, FL (PRWEB) June 14, 2013
Announcing the news on their website, Financial Services Exchange (FSX) has confirmed the date and venue for their next networking and presenting conference. The event, one of 4 organized by the company each year, will take place from July 25th-27th in Fort Lauderdale, FL. Held in the Ritz-Carlton Hotel, the event serves to link up companies with proprietary technology or systems to investors or market support.
Presenting companies can take the opportunity to introduce their company and products at the FSX investment conference, which includes a substantial number of FINRA member firms. The networking event is designed to increase efficient networking and lower travel costs and time for FSX presenting companies and attendees. The sponsor spends several days with the decision makers of member FINRA firms instead of having to travel to many different cities to many broker dealers/funding sources one at a time.
FSX is a nationwide organization of independent FINRA broker-dealers and professionals from private equity firms, corporations and lenders that invest in emerging growth companies. Founded in 1983, FSX hosts quarterly investment conferences throughout the U.S. To date, FSX members have raised several billion in capital for companies showcased at FSX conferences, making FSX the ideal setting for private and public companies seeking mezzanine financing, funding for private placements, IPOs, secondary financing, exposure, and more.
About Interlinked
Interlinked is designed to be the most efficient and powerful system available in assisting its members in finding one another, building relationships and ultimately do business together. Interlinked is a private network and it is not open to the public. You must be invited or apply to be part of the community. Our proven process utilizes four primary systems: one, through our custom automated campaigns (IRocket), second through media InterlinkedTV, thirdly our Ideal room, fourth, through our relationships with strong partners and events. For more information go to http://www.interlinked.com.
Safe Harbor Statement
This press release may contain information that constitutes forward-looking statements made pursuant to the safe harbor provisions of the Private Securities Litigation Reform Act of 1995. All statements, trends, analysis, and other information contained in this press release, including words such as "anticipate," "believe," "plan," "estimate," "expect," "intend," and other similar expressions of opinion, constitute forward-looking statements. Any such forward-looking statements involve risks and uncertainties that could cause actual results to differ materially from any future results described within the forward-looking statements. Risk factors that could contribute to such differences include those matters more fully disclosed in the Company's reports filed with the Securities and Exchange Commission. The forward-looking information provided herein represents the Company's estimates as of the date of the press release, and subsequent events and developments may cause the Company's estimates to change. The Company specifically disclaims any obligation to update the forward-looking information in the future. Therefore, this forward-looking information should not be relied upon as representing the Company's estimates of its future financial performance as of any date subsequent to the date of this press release.