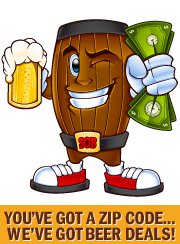 Houston, TX (PRWEB) June 11, 2013
SaveOnBrew, the worlds only beer price-search engine, and Moolala, a premier daily deal site, have created a new contest to give away an iPad mini.
"We'd been trying to find a way to work together for a while," SaveOnBrew's Mark Davidson said. "Moolala has a really intriguing connection to their users. It's very symbiotic, very inclusive, and that's how we want to be with our users as well."
The contest is being hosted by Moolala. Visitors to Moolala can click on the iPad Mini give-away link, create an account, and be registered to win the tech marvel. "The iPad Mini is a very cool little tool, and we think it's a great prize. We also hope it will introduce many new people to both Moolala and SaveOnBrew," said Davidson.
The contest runs through Thursday and no purchase is necessary.
# # #
About SaveOnBrew.Com: Founded in 2010 to help thirsty beer drinkers across the United States find the lowest advertised prices for one of the world's most popular beverages.
About Moolala.Com: Moolala was conceived in 2010 as a way to combine the hottest space on the web (Daily Deals) with the most powerful marketing force ever (word of mouth).